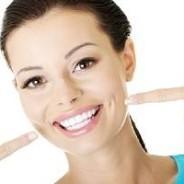 While pursuit of the bleach white look is certainly a cultural value, and at times can be a little vain, having naturally white teeth is a sign of strong enamel and healthy teeth.
Dental hygiene is an important part of keeping healthy, but maintaining a white smile is another great way to show that you take pride in your appearance and would like to keep your body in as good of shape as you possibly can.
The one that makes us confident has brilliant white teeth, because by having bright white teeth we are protected from bad breath and tooth pain that may interfere with our daily activities. Before we discuss how you can whiten teeth, we must first know what is causing our teeth less white.
Causes of white teeth is brought on by two factors, namely factors from inside and external factors. Those people usually use bleacher, instant way to get white teeth. However, there's also several methods you could do that will not cost you a fortune but they are also safe for your teeth. Below are some tips on how to whiten teeth naturally and of course safely.
Baking Soda
Baking soda is definitely an alternative to cleaning also whiten teeth, as well as proven can be shed stains and plaque on the teeth, such as coffee and other marks. However when your teeth decay, it is recommended to consult with your dentist first, linked to the use of baking soda.
Strawberries
Strawberries have been known to contain an enzyme that will help whiten the teeth. In order to use them for the purpose, all you need to do is mash a strawberry and making use of your fingers, rub the pulp onto your teeth (for some minutes). Now, rinse your teeth well and floss, to make certain that strawberry seeds do not remain sticking inside.
Apples
A crunchy apple acts just like a toothbrush as you chew it. The entire process of chewing an apple removes excess food and bacteria from your mouth while scrubbing away surface stains. Apples also contain malic acid, a chemical used in teeth whitening products, which helps dissolve stains.
Lemon or Orange Peels
There've been reports that lemon and or orange peels will even do the trick of whitening your teeth. Guess you don't know before you try. Here again, these food products are extremely healthy and good for your stomach however the acid content might eventually wear away the enamel around the teeth. So if you use lemon or orange peel always rinse afterwards to be the safe side.
Lemon Juice
Lemon Juice includes a natural bleaching agent. This particular property of the juice can be really effective in making your teeth white. Squeeze the juice of the lemon and add a teaspoon of salt into it, forming a paste. Brush your teeth with this particular paste and then rinse you mouth with cold water. You are able to use baking soda, instead of salt, to make it more effective.
Rinse After Eating
It is really an important tip for those who drink dark beverages or eat colorful foods. Blueberry smoothies can stain your teeth nearly as much as coffee and red wine, so make sure that after enjoying these, you rinse your mouth by helping cover their water. If that isn't possible, drink some water and lightly swish it around your mouth to prevent any stains that might begin to set.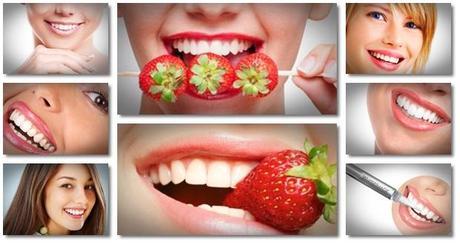 Natural Tips to Get Whiten Teeth
Apple Cider Vinegar
If you are prepared to bear some foul taste in your mouth, apple cider vinegar can surely assist you to treat the yellowing teeth. Add a few drops of apple cider vinegar to some teaspoon of baking soda, enough to form a thick paste. Now, use this paste to clean your teeth on a daily basis. Rinse your mouth thoroughly with water, after brushing teeth with vinegar and baking soda.