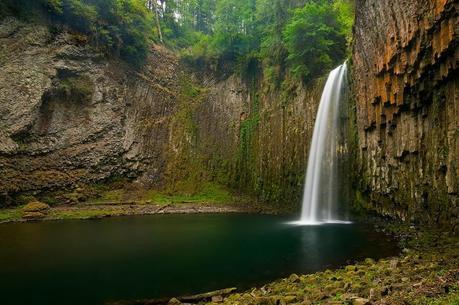 National Geographic
has posted
an interview with kayaker Jesse Combs
on their
Adventure Blog
 today, in which he talks about making huge drops off waterfalls, such as 96-foot Abiqua Falls, which he went over in April. The video for that drop has recently shown up on websites once again, despite the fact that
we featured it here on the Adventure Blog
just days after it happened.
In the interview, Jesse talks about what the experiencing of making a big drop like Abiqua from the moment he gets into his kayak to the moment he breaks the surface after the drop. He also touches on the dangers of running these big falls and the injuries they can bring on, his dream kayak trip, and the best paddling adventure he's ever been on.
The interview is a good one and offers some insights into the world of paddling these big falls. The current record for a big drop is 186-feet, but Coombs says he believes someone will try to break that record soon.
And it case you missed it the first time, here is the video of Jesse going over Abiqua Falls in April.