by Nina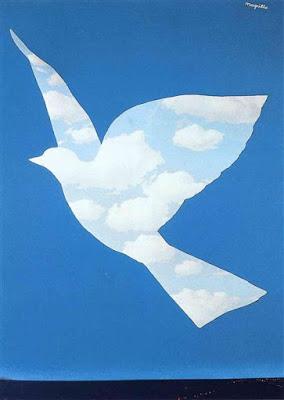 The Promise by Rene Magritte
My confession: I am really bad at meditating. And by that I don't mean my mind wanders a lot when I'm meditating (which I do not consider being bad at meditating). I mean that I just can't seem to maintain a regular meditation practice. I've tried countless times. I've made a vow, started practicing short sessions every day, and then petered out. 
Of course, I've wondered why this is. It was actually really easy for me to start regular asana practice at home. And once I get going, it is often hard to stop. Practicing for two hours when I have the luxury of the free time is really easy for me. So, the problem is not related to being uncomfortable spending time alone or anything like that. I'm guessing that the problem is that while practicing asanas makes me feel good immediately as well as after the fact, practicing meditation does not. I find it boring and aggravating during the session, and after the session I so far have not noticed any increases in equanimity or peacefulness.
Yet I still feel like this is something very worth pursuing. Did you read Ram's post Brain Waves and Yoga this week? I found it utterly fascinating and revelatory. I originally trained to be a yoga teacher so I could help people practice yoga for emotional well-being. And when I started this blog, I had a lot of information on that topic I wanted to share. But while I had some information about why yoga helped people with stress, depression, anxiety, fear, grief, etc., for example, how about how yoga triggered the relaxation response, there were still some mysteries about how an asana session could make you feel less depressed. Then in Ram's post, I saw this:
"Depressed, introvert people have more alpha brainwaves in the left temporal lobe, while chirpy, gregarious people have more alpha waves in the right side. Thus, yoga-associated increase of alpha brainwave in the right temporal lobe provides a natural setting to counteract stress and depression. (See Effects of yoga on brain waves and structural activation: A review.)"
Wow, it was actually mind-blowing to read that yoga changed your brain waves and that this helped counteract depression along with stress! I checked the abstract for the study, which said:
"It was concluded that breathing, meditation, and posture-based yoga increased overall brain wave activity. Increases in gray matter along with increases in amygdala and frontal cortex activation were evident after a yoga intervention. Yoga practice may be an effective adjunctive treatment for a clinical and healthy aging population."
Two points stand out. First, they studied a combination of breathing meditation, and asana, not just asana. And second they also proposed this practice for "healthy aging," which is probably due to the increases in "gray matter along with increases in amygdala and frontal cortex activation."
So many benefits! And I'd really like to dig into it that all more the future. But for now, let's look at Ram's conclusion:
"Thus, a combination of breathing practices, meditation, and asanas is sufficient to shift the brainwave pattern to a physical and mental state involving reduction in stress, anxiety, mood disturbances, and depression and improvements in mood, focus, alertness, and an over-all sense of well-being."
Again, we're looking at a combination of practices, not just asana. So, I'd really like to add a regular meditation practice to my life to see what it does for me. Who knows what my asana practice will become as I age? And I expect to face many life challenges in the future. Meditation is something that would always be available to me, no matter what. 
What I have decided to do this time is something different. I'm going to start my practice in the new year in a public fashion by posting a meditation diary once a week. I'm hoping that making a public commitment will help me stay on track for a good while, and maybe even help other people who want to do the same. My meditation diary will be on a different blog (not here), and I will announce its location this coming Monday, so stay tuned for that. If you want to join me in starting a practice, you can comment on my diary posts with your own weekly report. This will be a kind of virtual support group! And, of course, if anyone just wants to chime in with advice, encouragement, or support of any kind, that would also be very welcome.
What do you think? Does anyone out there want to join me
Subscribe to Yoga for Healthy Aging by Email ° Follow Yoga for Healthy Aging on Facebook ° To order Yoga for Healthy Aging: A Guide to Lifelong Well-Being, go to Amazon, Shambhala, Indie Bound
or your local bookstore.