by Baxter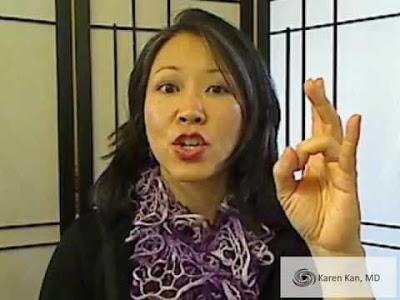 Over this weekend, why not kick back and enjoy this hour-long  conversation between my friend Dr. Karen Kan and me?
My colleague and friend Karen Kan, MD, invited me to be a guest on her podcast Dr. Karen Kan Radio Show because she, like me, is also a family physician who left the mainstream path. In Dr. Kan's case, she was searching for complementary therapies to address her own struggles with chronic pain from fibromyalgia. She is author of the book Guide to Healing Chronic Pain: A Holistic Approach and maintains a practice in Lake Placid, NY. She is truly enthusiastic about all ways that lead to healing and wholeness. 
In our conversation, Karen and I discuss some of the shared experiences we have had in traversing the modern medical paradigm and Eastern systems of healing. We also dive into the world of Yoga for Healthy Aging with some practical recommendations for people everywhere.
S
ubscribe to Yoga for Healthy Aging by Email ° Follow Yoga for Healthy Aging on Facebook and Twitter °
To order Yoga for Healthy Aging: A Guide to Lifelong Well-Being, go to Amazon, Shambhala, Indie Bound
or your local bookstore.
Follow Baxter Bell, MD on YouTube, Facebook, and Instagram. For upcoming workshops and retreatsee Baxter's Workshops and for info on Baxter see baxterbell.com