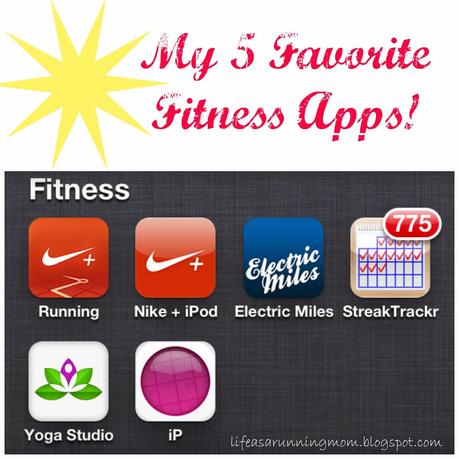 I gotta say, I LOVE TECHNOLOGY! Yes, I feel we can get too wrapped up in our phones or other technical devices and yes, we should put our family and face-to-face interactions up there on our priority list, but that said, technology is a wonderful thing. It has enabled us to do so much more with our lives and I am thankful for the advances we have made. One thing that I really do appreciate is my iPhone. But don't get me wrong, this isn't an iPhone post. There are other smart phones out there that can get you to where I am going today....how I use technology in my fitness.
On my phone I have a special folder for my fitness apps. You could call these health apps or my own personal apps for sanity. Whatever you label them, these are the apps I turn to on a regular basis...and some on a daily basis. Today I am introducing you to my 5 favorite fitness apps!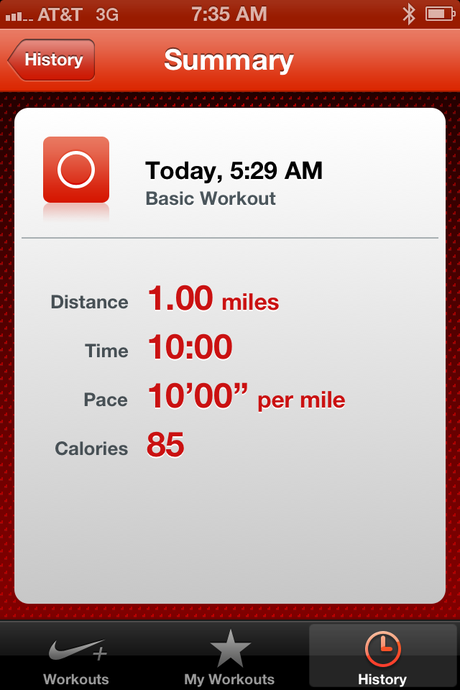 1. Nike + iPod: I have been a Nike+ customer for eons. Okay, not that long but it has been years. If I am reading the information right on the Nike+ website, I have been with them since May 2012. I am in the black level now and in the beginning, seeing progress moving up the levels was rewarding as the milestones were closer together and it was the beginning of my running "career". Now, it is less of the website and more of the app support. The app connects to a sensor in my shoe and you do need to walk around, or stomp in place, before your run to activate the sensor. And before you start your run you can select certain time or distance goals or just do a basic run. You can also select your playlist. And yes, it needs to be calibrated on a regular basis. I love having the additional avenue to record my mileage. The sensors are inexpensive to replace, which is an added plus! This app came on my iPhone and i use it almost daily.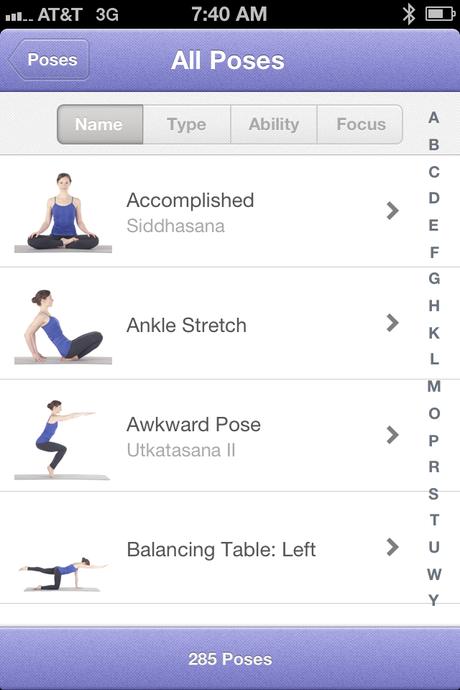 2. Yoga Studio: I just recently added this app to my collection and LOVE it! It was the best $2.99 spent ever! Trust me, it is worth it. I love the classes and the instructor's voice and background music is calming and compliments the classes. You can go through and read about the poses with instructions on how to do them and their benefits but don't worry, you don't need to read first. You can just go into a class and the instructor will walk you through it. I have so much more to explore with this app since I haven't even ventured into making my own classes. I love that it can go with me anywhere and yoga with instruction is so much better than just trying to do yoga. I have seen more improvements in my practice with this app and I use it daily! For a funny story, just yesterday afternoon I was using this app at home. I selected the 30 minute Beginner Flexibility class. I was a bit stressed before the class and commented to my Mom I needed to do some yoga before finishing making lunches and dinner. Halfway through I was feeling much better. In the final pose, darling daughter had to wake me up. Yes, I fell asleep during yoga. Guess that corpse pose was very relaxing! But don't worry, I finished my class and only snoozed a couple of minutes.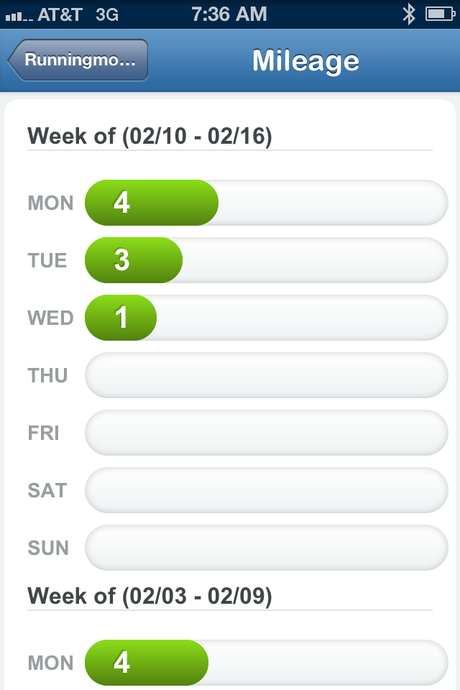 3. Electric Miles: This is the companion app to Daily Mile and it is FREE! I like that I can add my workouts to Daily Mile via my phone versus going to the computer and doing it that way. Plus it has some cool charts and features I can look into. The runner/community support on this social network is amazing. Through the app you can see your comments and your friends comments. You can give and receive support. In fact, you may sometimes find me doing this as I lull darling daughter to sleep at night and before going out of her room to spend time with dear hubby. I love that with the most recent upgrade that you can edit workouts on your phone now too because yes, I have made some data entry errors in the past and it was always a bother to go to the computer at a later time and correct my errors. I guess I am not the only user who makes this mistakes. I use this app daily.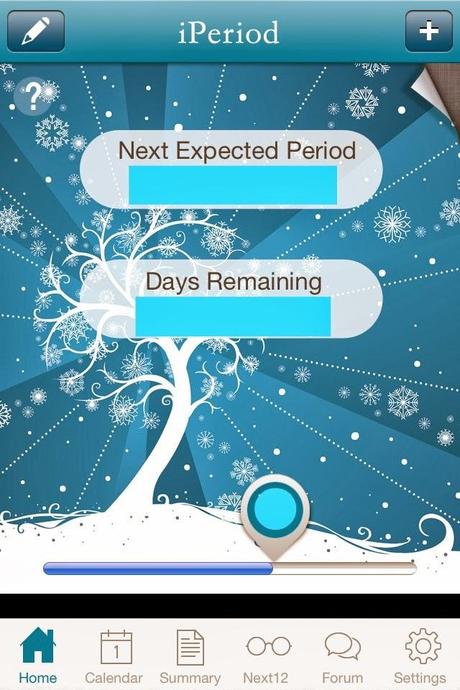 4. iPeriod: This app costs $1.99 and I see the value in it just because I can keep track of my menstrual cycle at my finger tips. And when I go to the doctor and they ask the same question every time - When was your last period? - well, now I can answer it. Sorry, I am too busy to focus on those details and it may sound bad but 99.9% of the time I do need to look up the answer or just guess. You can go as far as you want with what you track with symptoms, etc. I also use it to track those crazy viral outrbreaks I get as part of me is trying to see if it is linked to anything else.

Not really except perhaps my stress levels.

It also predicts when your next 12 cycles will be and gives you your fertile days if you care about either of those. For me, seeing the upcoming cycles and comparing to my race cycle may be stressful at times but knowledge is power! There is also a community forum if you are interested in that. iPeriod has a couple of companion apps: iTampon

(to help you remember to change - so not needed for me)

and iPregnancy, which may be really cool for those pregnant ladies. I haven't looked into either of them since one, I don't need reminders and two, I have no plans on becoming pregnant again. All in all, this is much nicer than the calendar tracking I did years ago as it is at my fingertips.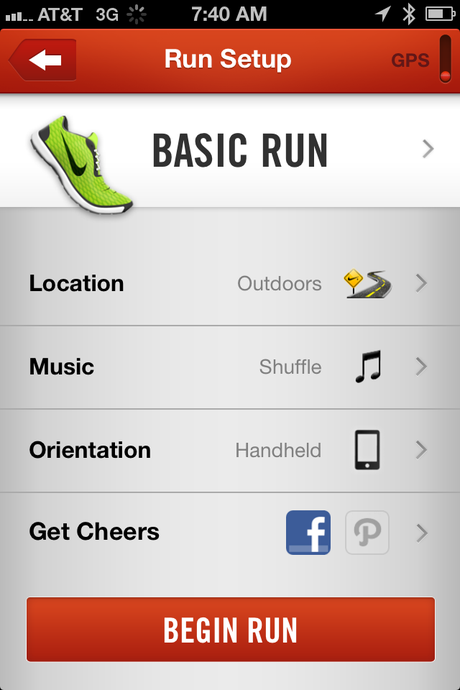 5. Nike Running: This app is FREE and it is the reason I got an iPhone in the first place. Like I said earlier, I have been part of the Nike+ community for awhile and I saw a fellow Nike+ runner talking about cheers he got when running. What? Cheers? I asked him about it and he informed me it was the Nike Running app with GPS that is available on iPhones. Sweet! And guess what? My phone was due for an upgrade which made getting an iPhone so much easier! And my old phone was on the blink to begin with. I love that it uses GPS to track my miles and yes, the cheers are sweet. You can get them when you connect to facebook and someone likes that you started a run. I don't get to use this app as much as I would love to since it is reserved for my road runs, for obvious reasons. Plus using it can really drain your phone so you have to think wisely on when to use it for the longer long runs. I like the data it collects on your run too in terms of a map, elevation profiles, splits, and temperature. A data analyst can have fun with this!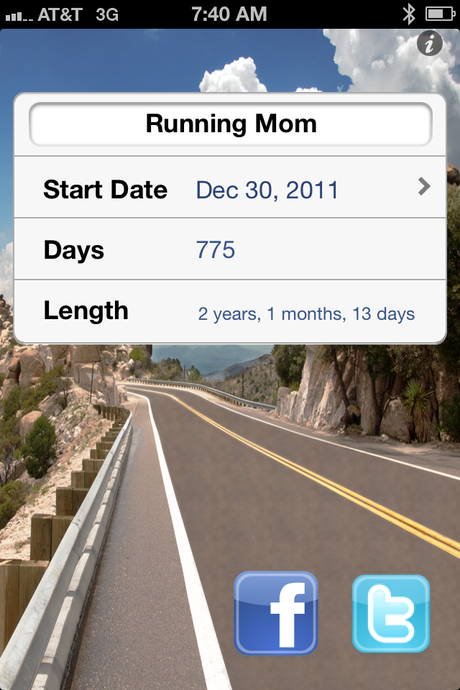 One little extra: I am mentioning this app just because it is pictured in my fitness folder. The Streak Tracker app. I don't really use this app per se but I love having it on my phone to track my running streak and yes, it is always a day behind. It does give you notifications when you hit milestones like your running streak anniversary so that is really cool! The app costs $1.99 and for me, it is worth it. But hey, I am a streak runner!
Daily Gratitude: I am thankful for technology.
Daily Affirmation: I have a loving heart.