We eat a lot of mushrooms in this house, with venison steaks, roasted or in this fabulous Mushroom Orzo inspired by Cooking Light. It can be a side or an entrée and was really good as leftovers.
Orzo is one of those things that I forget about, since it is in such a small box it gets lost in the pantry but I must do a better job of searching for it. Good hot or cold and it make such  great sides and salads. Reminding myself to make more orzo!
Mushroom Orzo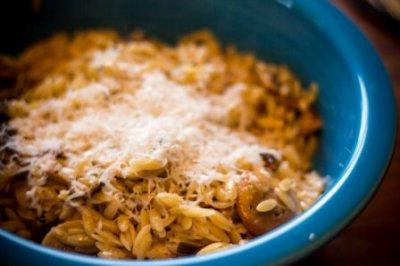 Prep Time: 10 Minutes
Cook Time: 20 Minutes
Keywords: entree side vegetarian
6046138
Ingredients (Serves 2-4)
3/4 cup uncooked orzo
1 1/2 tablespoons butter
3 cups sliced mushrooms
1/2 tsp black pepper
3/8 tsp salt
1/4 cup vegetable broth
1 tablespoon balsamic vinegar
1/4 cup minced chives
1 ounce shredded parmesean cheese
Instructions
Cook pasta according to package directions. Drain and set aside.
Melt butter in a large skillet over medium heat; cook 1 minute or until lightly browned. Add mushrooms, pepper, and salt. Cook 4 minutes or until mushrooms release their liquid, stirring frequently.
Add broth and vinegar; stir in orzo and chives. Top with cheese.
Powered by
Recipage