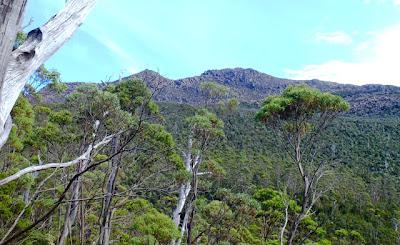 This walk is the first of a few in Tasmania this year. I'm on a working holiday in Tassie for the next few months and am going to try and get a bunch of trips in while I'm here. I didn't take my car so the first thing I did when I got to Tassie was buy a pushbike. The Bald Tyre bike shop sounded like a good place to get a quality bicycle so I went in and asked if there was anything for less than $50. The guy in the shop said that he'd put something together and I should pop back tomorrow around midday. The following day I came in and he was just putting the finishing touches on it for me. He said "would you like brakes with that?" and in a matter of minutes I had a bmx with front brakes for a grand sum of $50. $5 for a bike lock from target and I was good to go.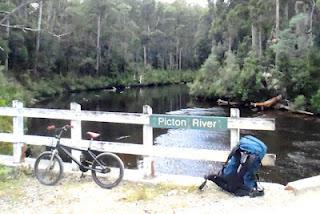 I chose the Stenes Tarn route up Mt Picton because it was a relatively simple trip. I caught the bus from Hobart to Geeveston on Wednesday morning at 8am. Once at Geeveston I picked up an annual parks pass from the Southern Design Centre and headed off towards Tahune Airwalk around 10.30. I guess it's about 40k or more to the track head from Geeveston so it was a pretty serious undertaking on a bmx while carrying gear. The nicely carved signs were a conveniant reminder how far out of town I was. Around about the 14k mark a couple from Victoria pulled over and gave me a lift to the Picton Rd turnoff in thier ute. On three seperate occasions I've visited Picton Rd and I've never made it to my destination without someone pulling over and offering a lift. Must be something in the water.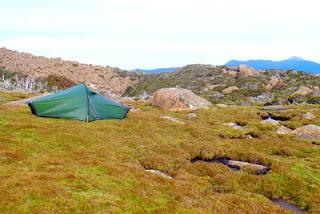 I jumbed out at the turnoff and pedalled and pushed my way down the dirt track and made it to the carpark at West Picton Spur 1/2 around 2.30 then stashed my bike and headed down the track. To be honest I was already pretty buggered from the ride and the heavy forrest seemed to drag on a bit. I finally broke out of the trees and onto the ridgeline leading up to Stenes Tarn around 4om. The cairned track is pretty straight forward and in my opinion takes the logical route up to the clearing near the tarn. I set up camp around 5.40. I went for a quick wash in the clear water of the tarn and then headed up to the summit for sunset. I chose to follow the meandering cairns that headed east above the tarn and then turned back towards the summit higher up. It was an easy walk. The views are absolutely amazing! For me what was special was the clear picture of so many special features of the south west in one aspect. I really appreciated it and was glad I ended up choosing this walk to kick off the year in Tassie.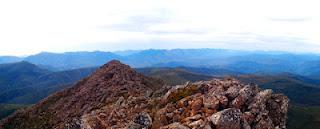 I woke up on the thursday morning to a slightly overcast day. There are a lot of bugs around Stenes Tarn and I rushed through breakfast. I was feeling tired so skipped a trip to the lakes and opted to head down around 8.50am. There were clear blue skies by 10am and I was kind of wishing I was back on top but I still had a ride back to town ahead of me so was satisfied enough. Back at the track head at 1.50 and back on the bike. The descent down West Picton Spur 1 and Picton Road was dodgy with only one brake. The bike went at it's own speed but I made pretty good time.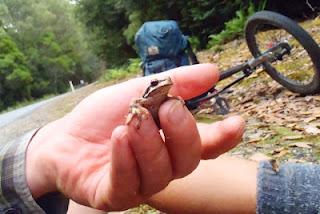 About 12 k's out of Geeveston I got picked up by Mick and Pat, local boys taking an old Gemini out for a test drive. The boot was loaded with mag wheels so after a shuffle around, the bmx, a wheel and me sat on the back seat and my bag and the other three wheels went in the boot. Top points to Mick for having the patience. It was about 5pm when we headed into town so the boys offered to put me up for the night and I'd catch the bus back in the morning. My lodging was an old caravan and after a couple of slices of pizza, a few beers and a shower I was much recovered and hit the sack. Thanks to the locals once again for looking after the tourist wandering around in the middle of a logging road. The morning saw me sitting amongst a bunch of cheerfull school kids heading back towards Hobart. Trip well done.