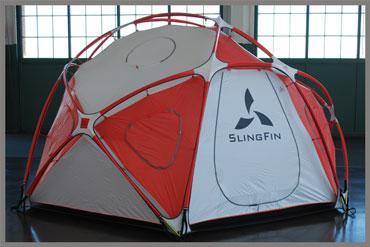 A few days back I posted a few thoughts on some of the things that I saw at Outdoor Retailer last week. For outdoor enthusiasts the convention is pure gear nirvana with so many great things to see that it is difficult to explain the experience to others. Needless to say however, if you're in the market for new boots, packs, tents or other outdoor gear, there are hundreds of options on display.
While sifting through my notes on the show, here are a few more great pieces of gear that you'll want to keep an eye on in the months ahead. Some are available now and others will be released over the next few months, but all impressed me on multiple levels.
SlingFin Tents
Not for the average consumer, SlingFin builds a line of tents designed for mountaineers and adventure guides. They have everything from small, two-person, four-season tents to large expedition dome tents, each with a unique design and plenty of attention to detail. What struck me about their shelters was the level of versatility they provide in terms of ventilation, stability and comfort. These tents have years of thought and design put into them and it shows. Experienced adventurers can buy just one of the SlinFin tents and use it on multiple adventures around the planet including deserts, mountains and polar regions. Very impressive.
Mountain Equipment Helium Sleeping Bag
Mountain Equipment is a gear company that has been around for decades in Europe and the U.K. but has just started to find its way across the pond to the States in the past few years. They make excellent mountaineering gear that is very high quality and yet remains quite affordable. I was especially impressed with their sleeping bag line which incorporated some excellent design choices to make a very comfortable sleeping experience. Warm and light weight, the Helium bags offered nice touches like a uniquely designed bottom designed to provide more room and comfort for your feet. Anatomically designed hoods help to keep your head warm without sacrificing warmth, while comfortable neck collars and two-direction locking zippers provide plenty of options as well. The company has a sleeping bag for just about everyone, whether you're camping in the backyard or taking on Everest, and more thought has gone into those bags than most other companies puts into their entire product line. For those looking to cut weight, their new Xero bag is rated for 20ºF/-6ºC, weighs in at just 27 ounces (765 grams) and costs just $340. Not bad at all!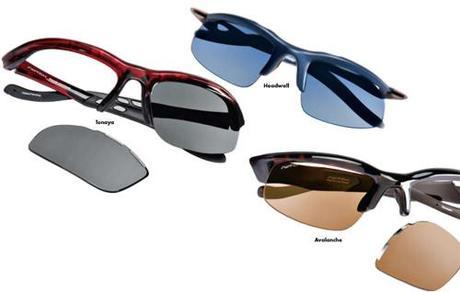 Switch Eyewhere
Outdoor athletes, adventure racers, triathletes or anyone who just demands a lot from their performance eyewear will certainly want to take a look at the options from Switch. The company has come up with an ingenious design that incorporates magnets into the frames and lenses, allowing you to quickly swap them out based on the current lighting conditions. Running a 24-hour adventure race? Switch can provide you with the right lenses for morning, mid-day and evening light, allowing you to use a single frame for every situation. There are numerous frames to choose from and they are all durable, rugged and great looking. Lenses are fully RX-able and there are several kits available that come with two sets of lenses to get you started. This is one of those great concepts that you're not sure why someone didn't come up with it sooner.
New Balance Minimus Hi-Rez Running Shoe
Minimalist running shoes were all the rage once again this year at OR although the trend moved away from the "barefoot" craze that was popular the past couple of years in favor of designs that were still lightweight and comfortable. One of the shoes that generated a lot of buzz was the new Minimus Hi-Rez from New Balance. Weighing in at just 4.2 ounces and remaining very flexible, the Hi-Rez seems to be a great mix of comfort and speed. They'll carry a price tag of about $120 when they drop in a few months time, but if that's too steep for you bank account, you'll have plenty of similar options from other manufacturers as well.
Princeton Tec Spectrum Headlamps
Princeton Tec was at OR to show off a few new products as well, including a fantastic new headlamp with a rechargeable battery pack that is lightweight, has a long burn time and provides plenty of lumens. But they were also there to talk about their expanded options for their Spectrum lights. If you're not familiar with the Spectrum it gives you the ability to custom design your own headlamp selecting from a couple of different models then building it with the colors and band that you like most. Users can actually make their personal light quite unique and it is fund to build the unit online. After it's complete, Princeton Tec ships it out to you ready for use. The option is great for adventure racing teams for instance who all want matching lamps in team colors. The service was launched at last year's summer OR, but now has a few expanded options.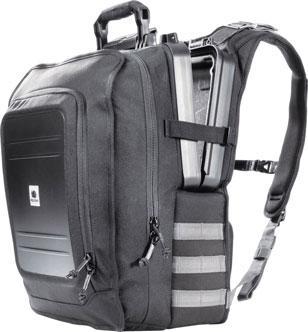 Pelican Pro-Gear Backpacks
Most of us are probably familiar with Pelican cases, which are fantastic for keeping our fragile gear, such as cameras and laptops, protected from the elements while out in the field. Now the company is preparing to release it's Pro-Gear line of backpacks which actually incorporate a waterproof hard case directly into the pack itself. The packs are a bit bulky but provide great protection for important gear. I expect these will be a big hit with travel and adventure photographers, many of whom visit remote places with gear that doesn't always do well in harsh environments. I tried one of the packs on and found it to be surprisingly comfortable even if it does look a bit awkward. There will be a couple of sizes and colors available when they launch in September.
Julbo Floating Sunglasses
Another eyewear company that impressed with great designs and innovative options. Once again, triathletes and adventure racers will find plenty to like in their catalog but mountaineers will likely be the most impressed. Julbo has its roots in the climbing world and had a number of great styles and options designed for use on the mountain. But perhaps their most impressive innovation was coming up with a pair of performance sunglasses that actually float. How many of us have managed to drop an expensive pair of shades into the water only to watch them quickly sink beneath the surface? With the new frames from Julbo this will no longer be an issue.
Brooks-Range Cloak
Brooks-Range has an excellent new sleeping option that will be available in the spring for those that find themselves getting a bit too warm in a traditional sleeping bag. The new Cloak is actually a "technical blanket" stuffed with waterproof down from Down-Tek that is designed to be used with just a sleeping pad. It comes in three models rated for 45, 30 and 15ºF (7, -1 and -9ºC) with the lightest model weighing just 13 ounces (368 grams). Perfect for warm weather backpacking and camping and the the prototypes that I saw were super soft and comfortable. Definitely a unique piece of gear, but one that I'm sure will be appreciated for its simplicity and function.
Look for reviews and suggestions on these gear items and more in the days and weeks ahead. I'm already testing some of the things I saw at the show and will start sharing thoughts soon.