by Nina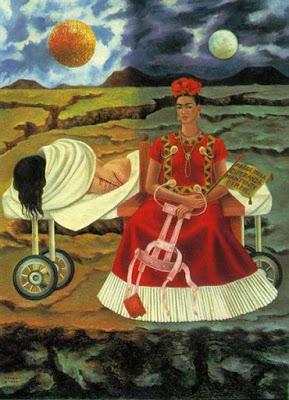 Tree of Hope, Remain Strong by Frida Khalo*
"We are, I believe, just beginning to see the impact on the yoga community of this #MeToo moment," said Shannon Roche, chief operating officer of Yoga Alliance, a voluntary registry believed to be the industry's largest credentialing body. "There is a long history of sexual misconduct and of abuse-of-power situations in the yoga community. We also know that, like many other communities, yoga has many times tried to keep those stories in the family." —from "#M3Too Unmasks the Open Secrete of Sexual Abuse in Yoga"
This quote is from Miranda Leitsinger's important new article #MeToo Unmasks the Open Secret of Sexual Abuse in Yoga.  Because this article—which I heard took six months to research—was only reported locally in California, I thought I should share it with those who may not have heard about it. In addition, for those in California who heard the audio version broadcasted here on public radio, the written article is quite different in that it actually gives names, both of the many women who are accusing male yoga teachers of sexual abuse and of the teachers that they are accusing. So I wanted to be sure that you, too, knew about the written article.
First, I would like to take a moment to honor the courage of the many women in this article who allowed their names to be used, either when in sharing their personal experiences or when commenting on the accusations against specific teachers. You might even see some names you know because three of the women, Charlotte Bell, Leslie Howard, and Judith Lasater, have been interviewed on our blog (though not on this topic). Thank you.
Then, I want explain that all of the teachers mentioned are currently teaching in California, with most of them in the San Francisco Bay Area. (The teachers mentioned by name are Manouso Manos, Zubin Shroff, and Allan Nett.) That is just because this article was for the local public radio station's program "The California Report." The article mentions that yoga teacher Rachel Brathen, who has been collecting #MeToo yoga stories, received the second most number of stories about New York, so let's all not just blame California. This is a national, if not a worldwide, problem.
It is also worth recognizing that the quote above from Shannon Roche of Yoga Alliance that is included in the article is groundbreaking in and of itself. She admits both that there is "a long history of sexual misconduct and of abuse-of-power situations in the yoga community" and also that there has been a history of certain people in the yoga community trying to keep that a secret. There, she said it! 
Then I recommend you read the complete article yourself and see what you think. It's not only long and thorough and well researched, but it also raises a number of unresolved issues that we all need to work on together. Where do we go from here? Now that we've admitted there is a ongoing problem, what to we do about it?
"In yoga, experts and leaders say, that soul-searching is only beginning." —Miranda Leitsinger
I have to admit, at this point, I'm unsure what the best solution is. See Yoga Teachers Who Abuse Their Students for a discussion of my concerns about the limitations of having a "code of conduct." But while I don't claim to have the solution to this, I do think that owning up to the problem and shining the light of day on it first step to finding one. So I'm grateful both to the reporter who worked so hard on the article and all the women who came forward to tell their stories.
Subscribe to Yoga for Healthy Aging by Email ° Follow Yoga for Healthy Aging on Facebook and Twitter ° To order Yoga for Healthy Aging: A Guide to Lifelong Well-Being, go to Amazon, Shambhala, Indie Bound
or your local bookstore.
For information about Nina's upcoming book signings and other activities, see Nina's Workshops, Book Signings, and Books.