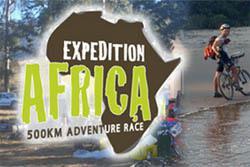 Expedition length adventure racing returned to Africa in a big way this week when Expedition Africa got underway in the Western Cape region of South Africa. The race offered a 500km (310 mile) course that stretched through some of the most beautiful and challenging terrain that that country has to offer.
The race officially got underway on Monday, with 22 teams, mostly from South Africa. Over the course of the past few days, those teams have been running, cycling, paddling, and navigating almost non-stop, as they raced toward the finish line. This wasn't a stage race in any sense of the word, which means that the racers had to balance their sleep strategies, against their need to stay in contention with the other competitors.
After four days or acing, Team Merrell Adventure Addicts took the top podium position, with Cyanosis claiming second place and third going to Team Accelerate. As of this writing, only two other teams have managed to finish, with Team Jabberwock and Castle Lite taking fourth and fifth place respectively.
I've heard through the AR grapevine that there are plans to have Expedition Africa become a permanent fixture on the adventure racing calendar, and possibly have it play a bigger role internationally as well. This would be great news for adventure racing on the continent, as I've always felt that Africa was a perfect place to hold this kind of event. Mix in some wild animals, some of which can eat you, and you really do put the adventure into the race.