These margarita cupcakes give typical vanilla cupcakes a boozy boost. Whip up this gluten free and dairy free treat for any fiesta.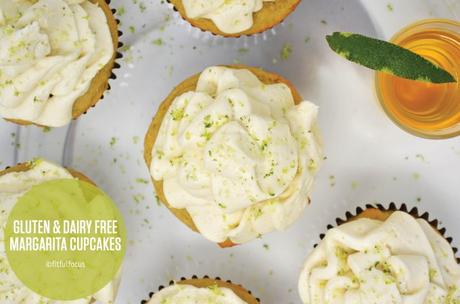 This post is sponsored by Now Foods.
A year ago yesterday (Cinco de Mayo), Will and I officially tied the knot. I honestly can't believe a year has gone by since we said our I do's.
Will and I didn't have a traditional wedding cake, but we did have a bunch of little desserts, many of which our amazing baker made Nicole-friendly (aka gluten free, dairy free, corn free, soy free, and peanut free). She made us bacon chocolate ganache cookie cups, chocolate cupcakes, cheesecake bites, sea salt brownies, mini apple pie pockets and our favorite: margarita cupcakes!
Since we didn't save any of the cupcakes to have on our year anniversary (they were too good to store away for a year), I wanted to recreate them for us. Now I think these gluten and dairy free Margarita Cupcakes will become an anniversary tradition!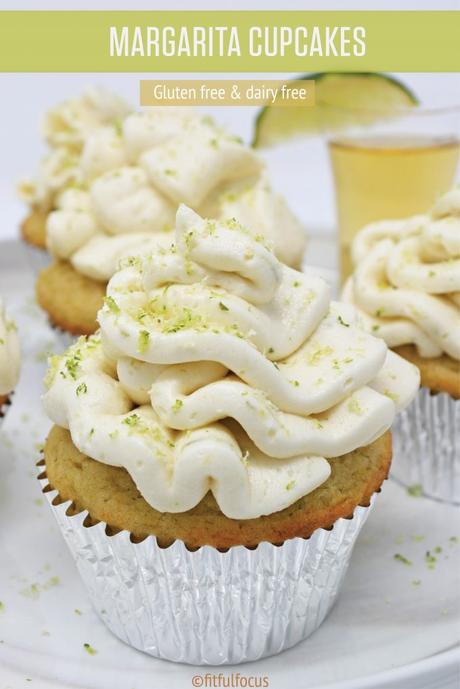 What makes a margarita cupcake a margarita cupcake?
Upon first glance, these little cakes look like regular vanilla cupcakes, but, dear friend, they are so much more!
The vanilla cupcake batter is infused with both the juice and zest of a lime, while the frosting is boozed up with tequila (and more lime!). It's like a biting into a sweet and tangy marg on a warm summer day: refreshing, satisfying and 100% worth every bite.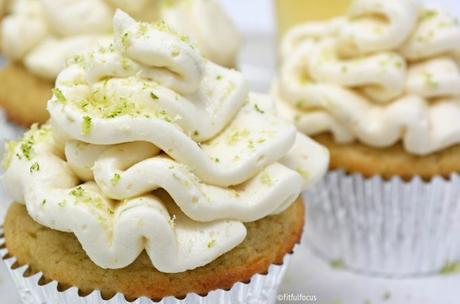 Tell me more about this lime-infused cake batter...
Lime juice and lime zest give what would be a simple vanilla cupcake base its margarita flare. Start by mixing lime juice with unsweetened almond milk (or the plant-based milk of your choosing) and a touch of vanilla extract. While that sits for bit, get your flour mixture ready.
My absolute favorite flour for baking is NOW Foods' Gluten Free Baking and Pancake Mix. It's has the perfect blend of sorghum, brown rice, potato and tapioca flours. It also has xanthan gum, so you don't have to worry about what amount will help keep your gluten free batter together.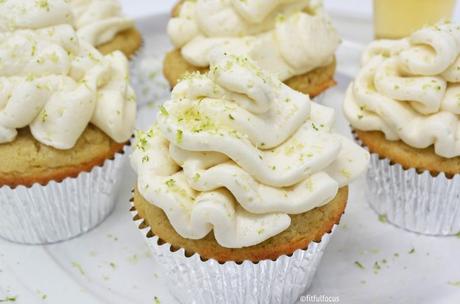 Now it's time to get out that hand or stand mixer. I find a stand mixer with a paddle attachment is easiest for whipping up cake batter. Mix the shortening (you can also use a dairy-free margarine) and sugar together until creamy. Then beat in the eggs and that magical lime zest.
Once all that is nice and creamy, slowly pour in your milk/lime mixture and flour mixture.
Almost as quickly as you can say, "TEQUILA!" you've got yourself a lime-infused cake batter.
Pour that into lined cupcake tins and bake those babies in the center of your 350°F oven for 20 minutes.
You mentioned these margarita cupcakes have boozy frosting?
The frosting really puts the margarita in these margarita cupcakes, and it couldn't be easier to whip up. Simply mix the shortening and margarine with more lime juice, lime zest, powdered sugar (I used Swerve sugar replacement because my grocery didn't have a corn-free powdered sugar), and the key ingredient for any margarita: tequila! A little less than a shot is all you need to give this fluffy frosting that boozy kick.
The key to making a good frosting is to start mixing (with a whisk-attachment) on low speed. Once everything starts to blend together, increase the speed and let it whip up until it's nice and fluffy.
Once your vanilla-lime cupcakes are cool, pipe on that frosting. I use a frosting tip and frosting piping bag, but if you don't have those handy, simply cut a little hole in the corner of a ziplock bag. Use a spatula to fill the bag with frosting and pipe it out that way. Add a little more lime zest to the top of each cake and you are ready to fiesta!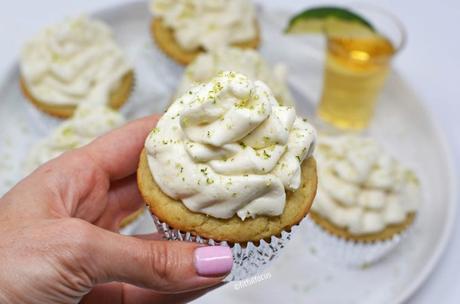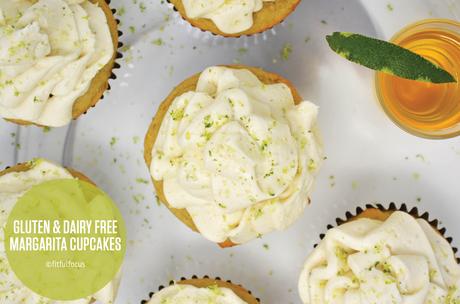 Ingredients
Instructions
Let's Chat:
What's your favorite type of cupcake?