by Timothy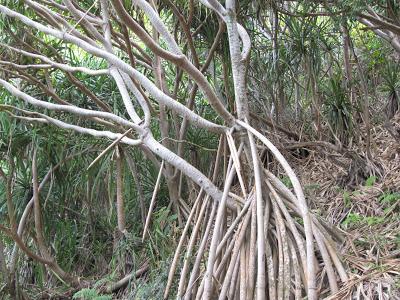 Branches and Roots by Brad Gibson
I got involved in a conversation the other day with Nina after class with our teacher Donald Moyer. Another student was wondering about the "correct" way to do forward bends. She'd just read an article in Yoga Journal by a highly respected teacher who said that the only correct way to do forward bends was with a concave lower back, that is, maintaining a normal inward curve of the lumbar spine. Although Donald sometimes prepares for forward bends like Uttanasana by doing the pose with a concave lower back, in the final pose, he suggests we allow a nice, even rounding of the spine, that is, completely reversing the lumbar curve.
Inherent in the student's question is the notion that there is only one correct way, that everybody in all circumstances, should do any pose. The reality is that it always depends. What are you trying to achieve? What poses have preceded it and what do you plan to do after it in your practice? Are there contraindications you need to consider? Are there quirks in your anatomy or injuries you need to work around?
We could do this analysis for any pose but, since we're on the topic, let's stick with forward bends.
There are times when it is definitely not a good idea to fully round the spine. If you have a herniated lumbar disc, for example, rounding is generally contraindicated. When you round forward, the front surfaces of adjacent lumbar vertebrae come together which tends to push the disc material toward the back of the body, near where nerves exit the spine. This rounding the lower back could lead to nerve compression and sciatic pain.
For a similar reason, rounding the back in forward bends is generally not recommended for those with osteoporosis. Compression fractures of the spine happen when the front surface of one vertebra collapses under pressure from a neighbor. But forward bends done with a concave lower back can actually be therapeutic for those with thinning bones, and were part of the routine Dr. Loren Fishman used in his ground-breaking research (still ongoing for those interested in enrolling in the study) that is documenting yoga's powerful ability to increase bone mineral density.
For those who lack such contraindications, rounding the spine the way Donald teaches may lead to deeper relaxation and more quieting of the nervous system. When looking at students from an Ayurvedic standpoint, long holds of rounded forward bends can be deeply calming to the vata dosha (the imbalance often tied to stress and over-activity). Long holds of such forward bends are part of yin yoga, and can be a wonderful way to open tight hips, for example, to prepare the body to sit comfortably for long periods of time in mediation.
So my way of thinking is that there is more than one correct way to do forward bends, all depending on the overall situation and what you are trying to accomplish. But that said, there are also certainly wrong ways to do poses. In my mind, any way of doing a pose that unduly increases the risk of injury, or which puts the joints or other bodily tissues in compromised positions is wrong. In forward bends, one common incorrect method is to bend from the waist rather than hinging from the hips. Although not all yoga teachers would agree, I also advise against any knee locking in the poses.
Of course, this just begins to describe all the thinking on forward bends found among different yoga teachers. Some people sit up on folded blankets or other props, which allows them to get more forward tipping of the pelvis, but not everyone needs to do this. Some people hold their toes, some hold a strap looped around the soles of their feet, and some place their hands alongside their legs. Ultimately, good teachers learn to look at students, ask them questions and determine a reasonable approach.
To me the final arbiter of whether a yoga technique is right or wrong is the breath. If you're able to do the pose and the breath can remain smooth, deep and even, more than likely you're doing it
a
right way (though probably not
the
right way).