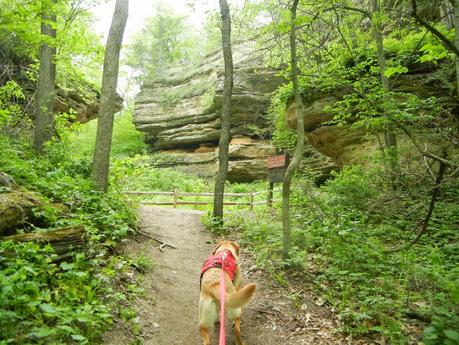 Charlie and I have been working with a trainer to help her with some of her fear-aggression issues with other dogs. We've been making some good progress, but I need to keep introducing her to new dogs in safe situations to build her confidence. The hard part about this process is finding other dogs for Charlie to meet with owners who understand proper dog-meeting protocols and taking the time to do it right.
A few weeks ago, I came across a photo on Facebook of a dog on the Ice Age Trail. I immediately connected with the owner of this dog - another girl hiker who has hiked some segments of the Ice Age Trail with her dog, Loba. (Loba, by the way, is Spanish for "she-wolf"... is that cool or what?!)
Since Hannah and her dog, Loba, live in a city that I drive through regularly, we quickly made plans to meet for a hike at
Natural Bridge State Park.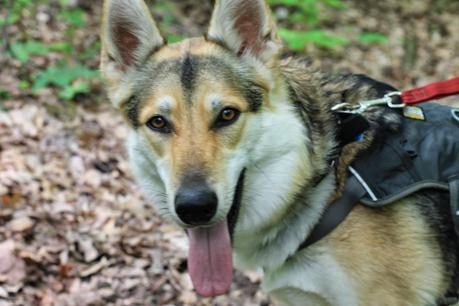 Introducing... Loba!
Hannah understood Charlie's issues and was a willing participant in working with us. The first meet-and-greet went well and even though Loba is a few years younger than Charlie, she was very respectful of Charlie's space and we had a great hike together.
The day was hot and humid so we didn't hike as far or long as I would have liked, but we did experience the magnificent sight of the 35 ft. tall natural sandstone arch that gives this state park its name. The arch, carved from wind, water and natural erosion over time, is a sight to behold! I could have spent a long time admiring the beauty of this landmark, but after a long weekend visiting with family I really just wanted to get on the road and head home.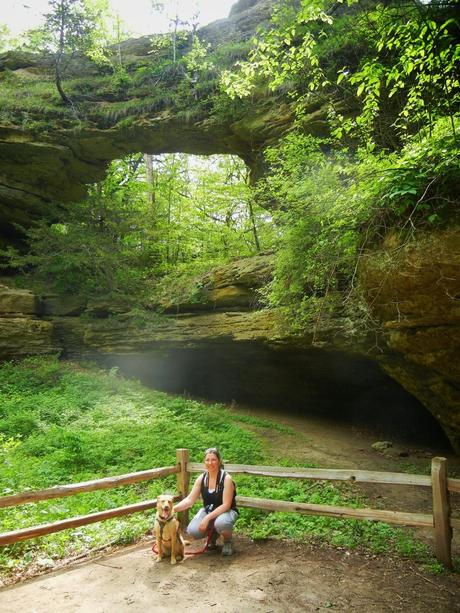 Me and Charlie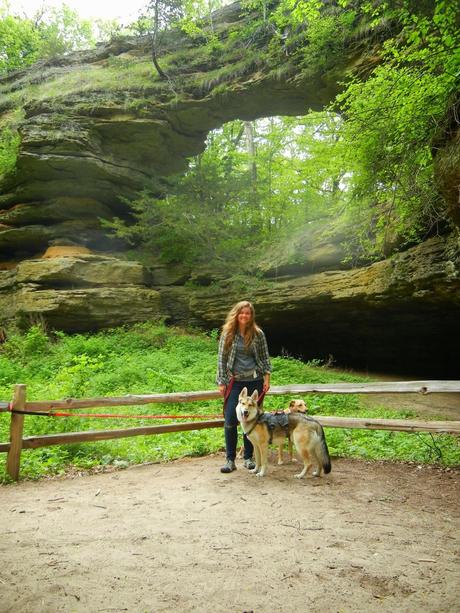 Hannah and Loba (with Charlie photo-bomb)
If you're in the southwestern part of Wisconsin and have time for a long, scenic drive, I highly recommend winding your way through the back roads to visit this state park. It's a place full of history and scenic views, making it a perfect spot to stop and stretch your legs on a road trip.