Dec 22, 2011 by Tatianna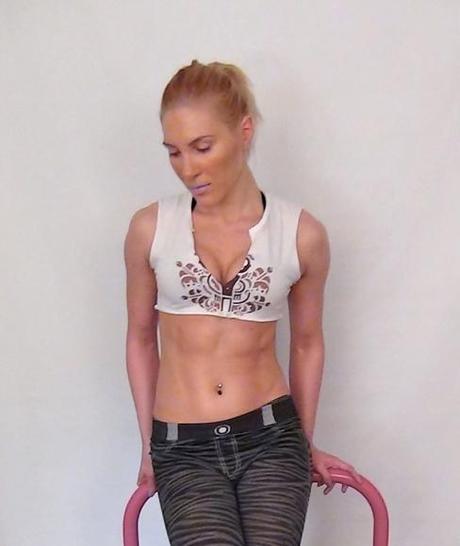 Today's workout was an upper body routine and it was a follow up to yesterday's " It Girl Booty Workout ". I really had to pull it together today, because half way though the workout I just wanted to complain and quit, but then all I kept thinking about was how hot I want to look and greet the New Year's day, and that kept me going through the full routine. I will be sharing my scores at the end of the post.
In this routine I was using my timer as a stopwatch, My Pink Lebert, I was using a medicine ball 12 lbs, but since you will only need it for balancing then you can use any medicine ball you like, I also used my pair of 12 lbs dumbbells.
Make sure you always do a proper warm-up before starting to exercise, to prevent your self from injury.
Workout Explanation
Set your timer as a stopwatch. There are 9 exercises total and I completed 3 rounds, trust me it was more than enough!
2 Dips & 2 V-Lifts – 12 reps ( 2 dips and 2 v-lits counts as one rep )
One Leg Shoulder Press – 14 reps
Wide Grip Pull Row – 14 reps
Mountain Climbers – 80 reps ( if you like you can do wall mountain climbers instead for 60 reps )
Medicine Ball Reptile – 10 reps on each side ( if you are having a hard time balancing on the medicine ball them place the other foot down after every rep, instead of holding it in the air )
Neutral Grip Vertical Row – 14 reps
Bear Push-Up – 14 reps
Standing Row – 14 reps
Jump Rope Power Jacks – 50 reps ( each time you jump out and then inn, counts as one rep )
Share your scores!
It took me 37 minutes and 26 seconds to complete this routine. I struggled. Now, Im gonna go for a 30 minute walk, I've been doing that for the past few weeks and found it very beneficial to clear my thoughts so I can keep coming up with creative routines as well as get some light cardio.