No matter our situation, we can always use a bit more happiness in our lives. There's always room to be happier! But how, you ask.
Happify is a website and app (iPhone only) that uses recent scientific breakthroughs to develop tracks/activities to help improve your happiness. For physical fitness, we do activities (workouts for the body) to become stronger. It's the same idea, except for mental fitness. Happify provides workouts for the mind to become stronger and happier! Scientists and game designers created the S.T.A.G.E. framework, which helps you to master the five essential skills of happiness: savor, thank, aspire, give, empathize. I've gotta say, it is a pretty awesome website!
It's really simple to use. Go to www.happify.com and create a profile (this is FREE, by the way)! Then you take a quick questionnaire to determine your "happiness score." The first time I took it, my score was in the low 30s (aka not happy). I took it again recently though, and it raised to a 59! Yay! After you take the quick questionnaire, you are then able to click on activities recommended to you (or you can explore tracks). These activities/tracks are quick and each have an explanation of why it works. They range from things like cope better with stress, to get motivated to get fit, to maximizing your money and happiness!
My first activity was a short, three round game where there were hot air balloons with positive and negative words. I was to click on the balloons with positive words, and it gave me points. I was actually smiling a lot by the time I was done; it was so fun! After that, I did a two minute meditation session where I was able to pick the mood and moving picture/video (I picked a sunset over the ocean) with background music. It helped me to feel calm and relaxed.
Here are some screen shots from the hot air balloon activity on my iPhone: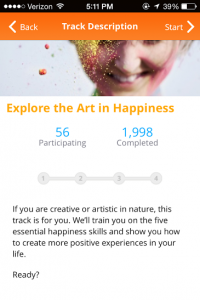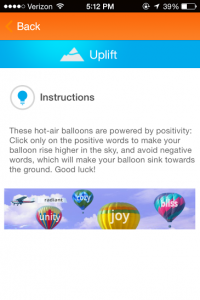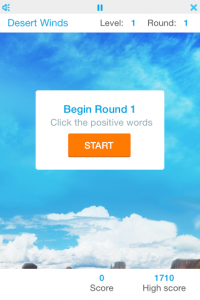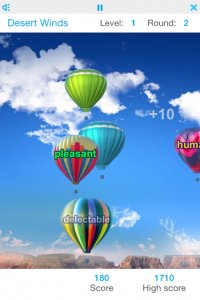 I had the amazing opportunity of teaming up with Happify as an I'm Fit Possible ambassador for a Happify Campaign!
Click my link-> Happify -> Sign up, complete one track; if you like it, keep going! If not, no problem. But don't forget, there's scientific evidence behind all the Happify tracks. Plus, it's pretty fun.

Let me know what you think of it in the comments below!
To a happier life,
Lyndsay