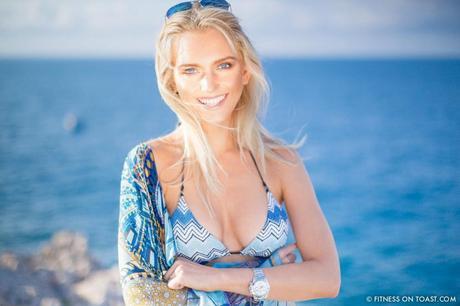 I'm super excited to share with you the photos from my collaboration with Selfridges and Longchamp, one of my absolute favorite fashion houses; to me, their brand speaks of classic 70′s glamour, which felt so appropriate for the South of France. We shot these images a fortnight ago as the Riviera sun rose at dawn, whilst enjoying a sun-soaked stroll along Cap Ferrat's famous Chemin de la Carrière; the route is a romantic little cobbled path which meanders all the way around this gorgeous peninsula. Living that close to the ocean means a diet rich in lean protein, and during my long weekend in this little paradise, I very much stuck to that! I receive a lot of emails asking how I feel about 'summer diets', so this post tackles how to stay on the healthy 'straight and narrow' during the summer months ahead! Click MORE for the shots and my thoughts…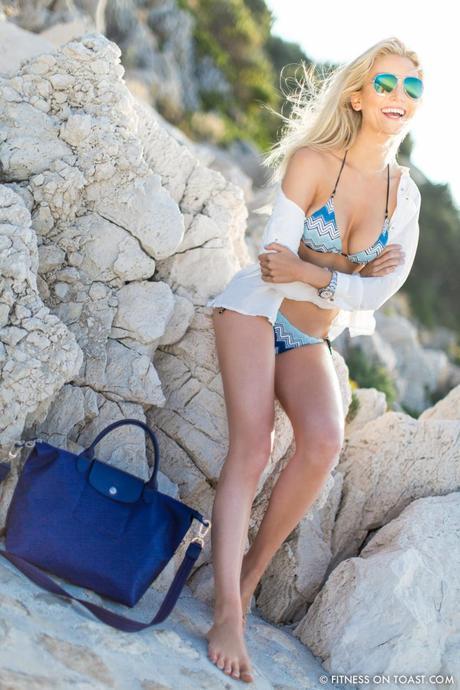 Whilst we train and abstain in the lead-up to summer holidays, once it's upon us, we enter frenzied 'holiday mode' and indulge in everything going. To avoid this comically binary approach to healthy living,
the four points below give some color around how I think about more wholesome nourishment for the body
! The word 'diet' contains all sorts of unrealistic and futile notions. Regular readers of
Fitness On Toast
will know that I favour the long-term, sustainable and healthy lifestyle choice of eating clean for most of the time, and indulging in the odd treat on occasion (because you probably can't live like a monk forever!).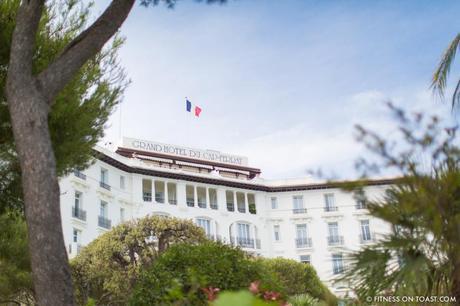 1) FAVOUR ORGANICS: Where possible, I try to buy organic produce from my local grocer. Organic foods are thought to preserve more of the naturally-occurring nutritional value, they certainly have fewer pesticides (chemicals including fungicides, herbicides & insecticides), they're likely fresher (as they have a shorter shelf life), I've found that they're more often tastier, have fewer/no preservatives and are more environmentally friendly. In the case of eggs, they even LOOK better, with a deep, rich hue of sunset orange in their yolk, rather than that flushed-out yellow of battery hens. In terms of meats, organically reared animals aren't dosed up with antibiotics, growth hormones, or fed other animal by-products, and the animals roam for far more time outdoors. That HAS to count for something in the long term!
2) STICKING TO IT: Leading the healthy lifestyle that my ethos is all about means committing to healthier choices and sticking to them (the tricky part!). So if you're introducing more greens, healthy fats and proteins into your diet it only makes sense to ensure you're buying the highest quality products to optimise your nutrition intake, and more importantly preserve your body's healthy state.
3) WITH A PURPOSE…: The preferred way is to eat food with a nutritional purpose – nutrient-rich foods that leave you feeling energised in both body and mind. Lean, high quality proteins, plenty of healthy fats and picking at foods all day long – such as berries, nuts and seeds – are the best was to avoid sugar spikes and maintain energy levels. It's also a great way to maintain muscle and function.
4) DRINK UP: Hydration is critical – drinking plenty of water throughout the day matters alot – it's involved in every bodily function so of upmost importance! If you have a sweet tooth (guilty), then perhaps drink plenty of green and mint tea with a teaspoon of manuka honey! I love to experiment with making my own green juices (with most ingredients coming from plant-based produce). If possible, I try to avoid highly caffeinated drinks, but I definitely have an espresso before my gym sessions (a fabulous pre workout boost!).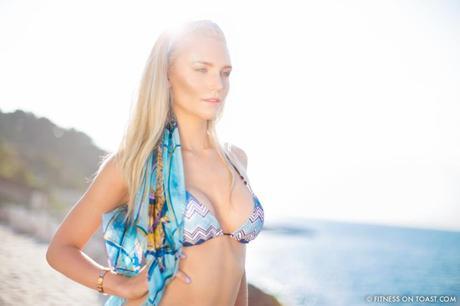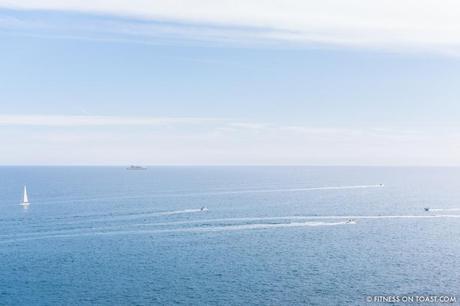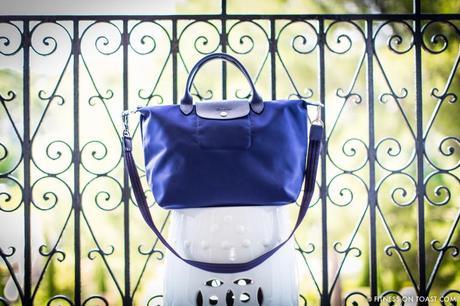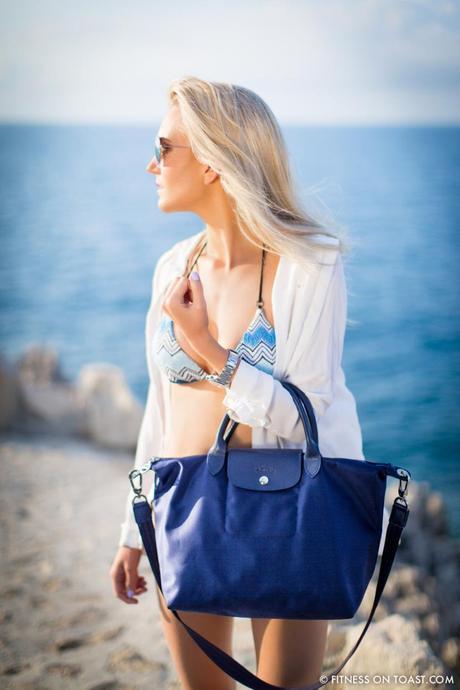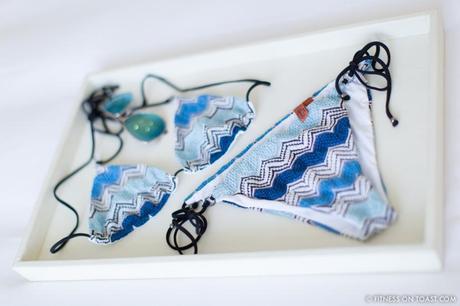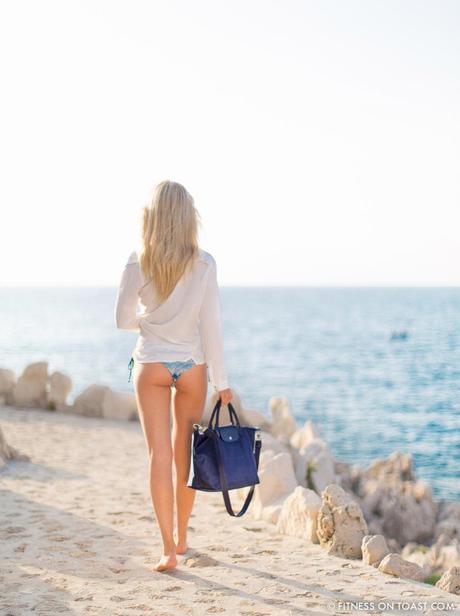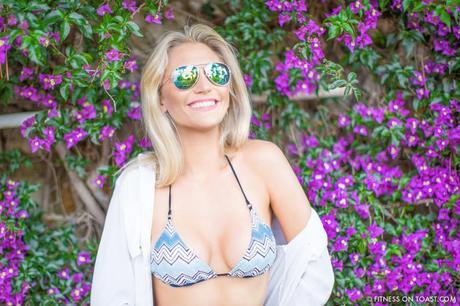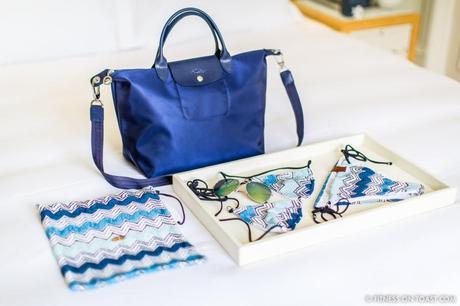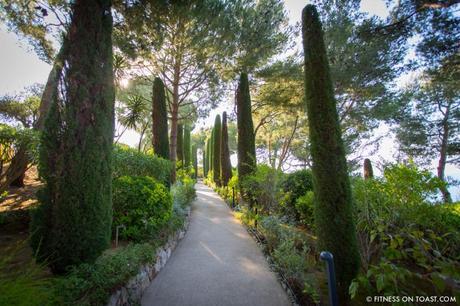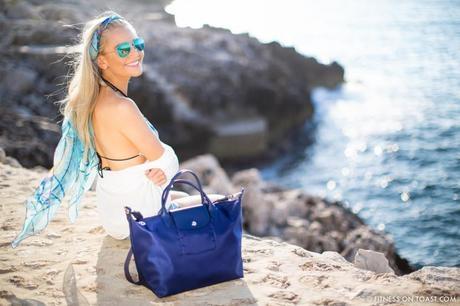 From a 'fitness fashion' perspective, I specifically chose this bag because it's the perfect size to carry both my gym kit and beachwear alike, plus it's also my favorite colour, deep navy blue (which has a very Swedish 'marine' feel), and a rich and lustrous sheen to the fabric. It's just a little more of an enjoyable and glamorous way to turn up to the gym than that supermarket plastic bag, and it makes my workout far more of an occasion too! I've paired it with my favorite bikini from Missoni and Hermes scarf (not to mention my favorite Primark 'mirrored aviator' sunglasses!), and thought the colours really played off the ocean :)
Faya x
_______________________
WEARING: 
Bikini: Missoni crochet-knit halter-neck 
Bag: Longchamp Le Pliage Neo Medium – Navy
Scarf: Hermes
Sunglasses: Primark
_______________________
YOU MIGHT ALSO LIKE: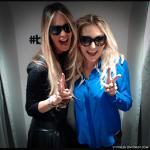 ELLE MACPH-INTERVIEW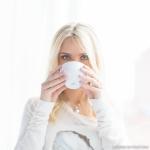 MATCHA GREEN TEA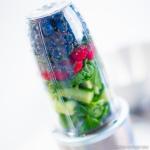 SUMMER CRUNCH!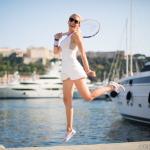 MONREAL IN MONACO