May 10, 2012 by Tatianna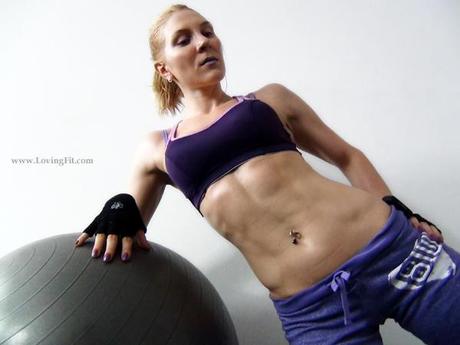 Hi everyone,
Hope you are ready for another upper body workout routine

. This workout wasn't very long but it will give you a great burn. After this workout I did an
Ab routine
and 10 minutes of light skipping.
Thank you very much guys for all of your feedback on video format, I am now sure everyone is on the same page and we all want edited workouts! We tried to shoot outside but it started to rain pretty bad so we just stayed inside, next week I'm hoping to get back to the park.
I also want to thank you guys for your kind words of support, I am so lucky to have you guys and every morning when I wake up and read your comments it makes me smile from my heart up

, thank you for that guys

.
Now let's have a warm-up, practice good exercise form and get to the workout!!
Workout Explanations
In this routine I was using my new Gymboss timer, my 40 lbs VersaFit bag from Power Systems and a pair of 20 lbs dumbbells ( 10 lbs each ). If you don't have a bag like mine you can easily make one, I have a post " Fitness Equipment On A Budget ", give that a looks and you can make a bag like mine.
This routine was made up of 2 parts and both parts were a circuits were proper form time challenge. That means even though it's a time challenge you still have to watch your form first, then you can worry about your time.
Part 1
Set your timer as a stopwatch. There is only one combo in this part and you will repeat this combo for the total of 15 rounds.
3 bear push-ups & 3 bag pick extensions ( that counts as one rep )
Part 2
Set your timer as a stopwatch. There are 4 exercises and you will repeat them for the total of 3 rounds.
Side Triceps Kicks – 15 reps
Crab 2 Side Plank Lift – 20 reps
Shoulder Press Circles – 15 reps
Crown Lift – 15 reps
My time
Part 1 – 6 min 47 sec
Part 2 – 15 min 32 sec
Have a wonderful workout!
Tati