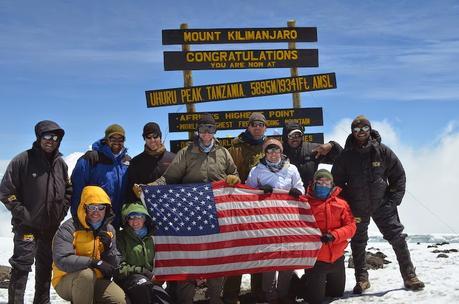 This article is the second in a new series about my recent Kilimanjaro climb. In the days ahead, I'll be sharing several articles about the experience to help readers prepare for a potential trek of their own in the future. Read Part 1 here. 
No matter what kind of trip you go on, the people that you travel with will have a huge influence on your overall experience. If you don't happen to enjoy the personalities of the people you are traveling with, you'll end up having a terrible time. Conversely if you are accompanied by a truly special group, even the most mundane of excursions can turn into a truly memorably one. Kilimanjaro is far from mundane however, and fortunately for me I was able to share it with an incredible group of people, making the climb all that more enjoyable. 
As mentioned previously, I traveled to Africa to climb Kilimanjaro as part of Tusker Trail's inaugural Climb for Valor. This very special trek was put together to raise funds for the Duskin & Stephen's Foundation, a nonprofit dedicated to creating scholarships for the children of fallen U.S. special forces soldiers. Through the Climb for Valor, Tusker was able to raise more than $100,000 to contribute to this fund, kicking off this first effort in grand style. 
With such a highly focused theme to the climb it should come as no surprise that Tusker was able to attract a number of participants from within the U.S. special forces family. Not only did we have two active-duty Green Berets join us on the trip, but the widows of three fallen soldiers as well. For security purposes I won't mention any specific names, but these men and women came to Kili with a purpose. They not only wanted to summit for a good cause, they also had their own very personal reasons for wanting to climb the mountain as well. 
Spending nine days trekking up Kilimanjaro with someone gives you the opportunity to get to know one another very well. After all, you're gathering in a cramped mess tent for your meals, you're sharing primitive toilet facilities, and there is ample time to chat when you're on the trail for hours on end. It is safe to say that our team bonded very quickly, and by the second day of the trip we were already sharing inside jokes, memorable stories, and very personal information. 
Prior to the trip I already had a deep appreciation for the job that the U.S. special forces teams do, but in sharing time with these men and women that appreciation only grew stronger. Both of the soldiers on the trip had suffered wounds in combat in Afghanistan, and listening to their tales brought a personal edge to the story that just can't be acquired simply by watching the nightly news. Their experiences in the field range from comical to harrowing, with just about every kind emotion in-between. 
As for the widows that joined us on the trek it is impossible to overstate just how strong and courageous they are too. They lost their husbands in a war that has lingered on far too long, and while that is certainly the ultimate sacrifice, they continue to approach each day with renewed optimism, an indelible spirit, and sense of purpose that is incredibly admirable. Were our fortunes reversed, I'm not sure I could be quite so forgiving and generous. 
There were other members of the team of course too. Several us came along in a different capacity to help chronicle and support the Climb for Valor. Each played a key role in creating a fun, friendly, and accepting atmosphere that made the entire trek feel more communal. For instance, Dr. Avi regaled us with endless stories of some of the things he's seen in, and out, of the emergency room over the years, while Kiwi Edan kept us in stitches with his New Zealand accent. Together we formed a close knit group that by the time we reached the summit we had transcended being just traveling companions and has become very good friends. 
A Kilimanjaro climb will test your physical limits, and it helps to have a good supporting cast around you when you start to go up to altitude. I couldn't have asked for a better team to have around me on this journey, and I'm very proud to have summited with such an amazing, inspiring group of folks. I'm sure at least some of them will become lifelong friends, and I look forward to connecting with them again down the line.
If you plan to climb Kili in the future, I hope you are blessed with such a wonderful team as well. It makes all of the difference.