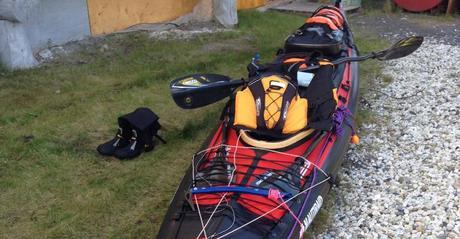 Summer in the Northern Hemisphere brings new opportunities for adventure, and over the past few years, that has included the opening of the Northwest Passage in the arctic ocean. We've seen several attempts recently to cross that fabled stretch of water, and this year will be no exception. One paddler got underway on Tuesday, and despite good conditions early on, she is already experiencing the challenges of Arctic.
French adventurer Anne Quéméré set off from Inuvik, located in the Northwest Territories of Canada on Tuesday, and reported easy paddling as she made her way through the MacKenzie Delta towards the Arctic Ocean. It was so easy in fact, that she spent 12 hours making good progress, before stopping for a short nap, and then continuing on once again. But yesterday, reality set in, as high winds helped to make progress extremely difficult. In fact, Anne reports that she was paddling for sometime before she looked over at the shore and noticed that she wasn't making any progress. With that realization, she elected to seek shelter from the storm and wait for better weather.
She's likely to face more days like that one before her crossing of the Northwest Passage is complete. She hopes to make her way from Inuvik, through the maze of ice and water that is constantly changing, eventually reaching the Beaufort Sea, covering a distance of approximately 3000 km (1864 miles) in the process.
Quéméré is no stranger to adventure, especially those that take her across large sections of water. In 2002, she spent 56 days rowing across the Atlantic Ocean along the Tradewind Route between the Canary Islands and the West Indies. She followed that up in 2004 with a row across the Northern Atlantic that began in the U.S. and ended in France, covering some 6450 km (4007 miles). Later, she would also kite solo across the Atlantic (6700km/4163 miles) and the Pacific (7000km/4349 miles). This latest adventure through the Northwest Passage is just a progression of sorts for her.
Until somewhat recently, the Northwest Passage simply wasn't possible to sail through. But global climate change has made the area much more accessible, and explorers have been taking advantage of that change to visit that part of the world. The passage will freeze shut again at the end of summer, so Anne will have to make good time through the ice. Hopefully she's setting out early enough that this won't be a problem, but conditions still remain dicey on the Arctic Ocean, even during the warmest months of the year.
You can follow her progress on the expedition's official website.