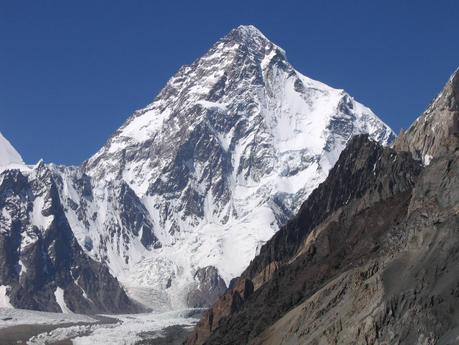 It is early in the summer climbing season in the Karakoram, but already the teams are on the move as they look to take advantage of good weather in the region. While teams are still getting settled elsewhere in Pakistan, on K2 the acclimatization rotations have begun. Climbers have already gone up to Camp 2 on that mountain, even as Sherpa teams work to install ropes to higher altitudes. 
Madison Mountaineering checked in yesterday with the news that their squad has arrived in C1 after a tough climb up 70º slopes. Today, they'll proceed up to C2, where they'll spend a night or two before returning to Base Camp. By all accounts, the entire team is doing well and proceeding according to plan. 
Also still in C2 is the international team that includes Vanessa O'Brien. They reached that point on the mountain yesterday as well, and will remain a couple of nights before descending. This allows their bodies to get use to the thinner oxygen ahead of an eventual summit attempt in about a months time. 
In other news from K2, The Himalayan Times is reporting that a Sherpa's record-setting bid was thwarted by the Pakistani government after he was sent home upon arriving in Islamabad. 25-year old Lakpa Sherpa had hoped to become the youngest person to scale K2 three times, but he was sent back to Kathmandu a day after arriving in Pakistan. 
Lakpa said that he passed through immigration without incident, but a day after his arrival he was contact by a government official and told he had to go home without any further explanation. Despite not being told why he was being shipped back to Nepal, the feeling is that the move was purely a political one. Pakistan has long hoped to generate a mountaineering infrastructure like that found in Nepal to help bolster its economy and employ more local climbers. But as K2 and other mountains continue to become commercialized, guiding companies are increasingly bringing more and more Sherpas into the country to assist and even lead those expeditions. The young climber, who has already summited Everest four times, believes that he won't be allowed back into Pakistan in the future as well, although he isn't sure exactly why.
As The Himalayan Times story points out, Lakpa's story isn't a unique one this summer. Australian climber Chris Jensen Burke had a similar experience when she attempted to enter Pakistan a few weeks back. She was forced to cancel her expedition as well without any clear-cut reason as to why she wouldn't be able to enter the country. It seems others have been sent home too. 
Meanwhile, over on Broad Peak, the Mountain Professionals have checked in and report that they have reached Camp 1 at 5600 meters (18,372 ft) on that mountain. They report snowy routes up steep slopes to reach that point, but everyone was able to climb up without much trouble and spent two nights there to begin their acclimatization process. Now, everyone is back in Base Camp and resting before preparing to head up to C2 in a few days time.
The report also indicates that a second team has now arrived on Broad Peak, but it is a small squad consisting of just four climbers. They won't be particularly helpful in fixing ropes, so it will fall on the Mountain Professionals squad to complete that work. They are currently installing the lines between C1 and C2, with the hope that another commercial team will arrive in the days ahead to help with the work. 
That's it for today. More news from the Karakoram soon.