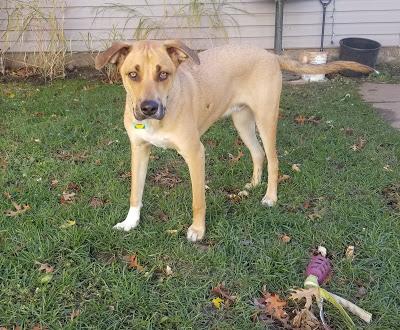 The weather is unusually cold and rainy for this time of October. Typically we'd be enjoying days with temps in the low 50's and the autumn leaf color would be at peak. But this morning it was a chilly 38 degrees with howling winds and snow flurries and most of our leaves have blown off already from the stormy rains and winds of the past week or two. Instead of a fun hiking excursion like I had planned, we stuck to the backyard and playing at Alan's house today since the windchill was pretty cold. We took advantage of the occasional bouts of sunshine peeking out from clouds to play outside in the yard and took a long scenic drive as well.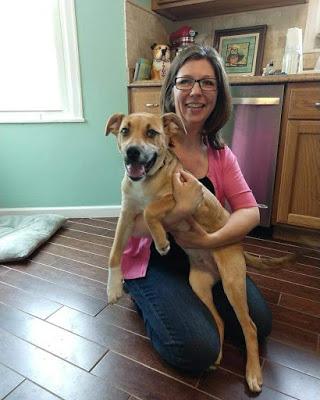 JAKE ~ 6 months old (adoption day!)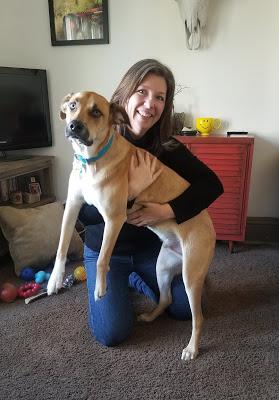 JAKE ~ 1 year old!
Jake has been with our family for just a little over 6 months now... and today is his first birthday! It's hard to imagine that around this time last year he was born as a stray in Texas... and now he's a pampered pup in Wisconsin! Strange how life works sometimes.
Jake continues to grow but his weight-gain has slowed a bit in the last few weeks and I'm hoping he'll plateau soon. I took him to the vet this morning to get weighed and get a refill of his Bravecto tick meds. His official weight today is 54.5 lbs, which means he's gained about 24 lbs in 6 months. My big boy!!!
We went to the pet store after the vet's office and let Jake pick out some treats. He always seems mostly interested in the smoked bone display but since I'm not a big fan of those treats, we always bypass it. But today I let him have one... and Charlie got one too. I think he's pretty happy with his treat selection.
VIDEO (Jake's Birthday Bone):
Jake is pretty adorable when he gets a special treat like a bully stick, beef trachea or duck foot. He always gives me this look of surprise when he first takes the treat in his mouth, like he can't believe what a lucky boy he is! Then he runs into the living room and tosses the treat up in the air a few times. He then races downstairs to show Grandma his treat and toss it up in the air a few times for her to see too. Then he comes racing back upstairs into the living room to roll around with it a few minutes before he finally starts actually eating it. Usually by this time, Charlie has either eaten her treat completely or is almost finished. Then as Jake takes his sweet time enjoying his treat, Charlie gives me the "stink eye" like I gave him a
bigger
treat or
more
treats than her and that is why he still has some and hers is gone.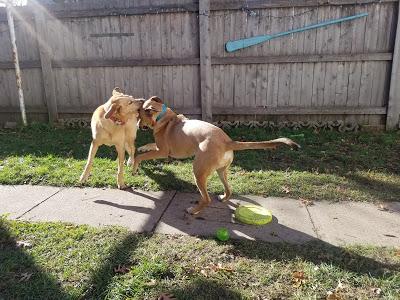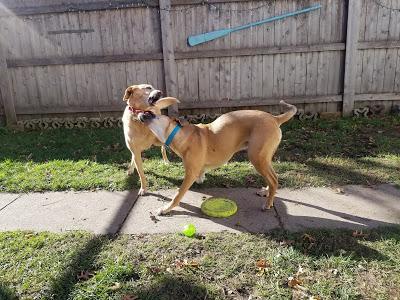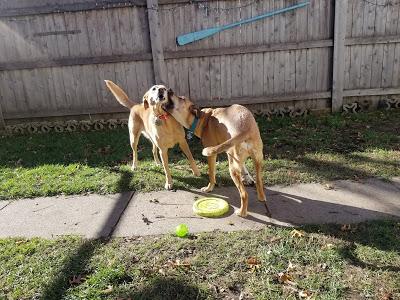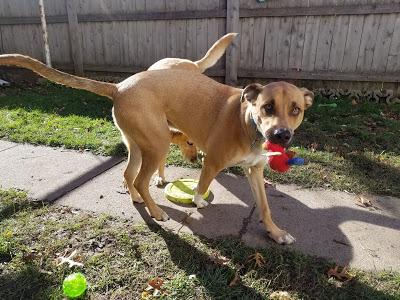 Jake is a cuddle-bug. I've never had such a cuddly dog... and I absolutely love it! Jake always wants to be near me and at night he glues himself next to me in bed. He gives kisses by putting his snout right up to your mouth or nose. He has an affinity for sniffing things very hard! He'll put his nose right on something and inhale deeply. Sometimes I wonder what exactly he's smelling or why some things are so darn interesting! Just the other morning, he was lying on the bathroom floor while I got ready for work and he stuck his nose right into the crack between two tiles and inhaled so deeply and for so long! I just laughed at my big goofball. Not sure what he was sniffing, but whatever it was, it had his undivided attention.
VIDEO (Jake was pretty excited about the snow!):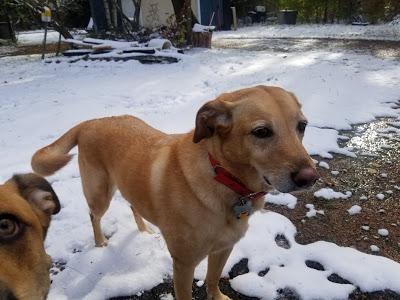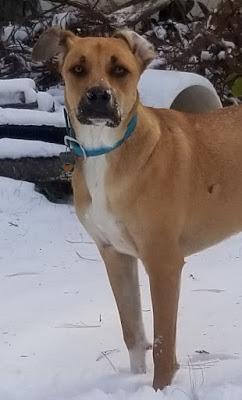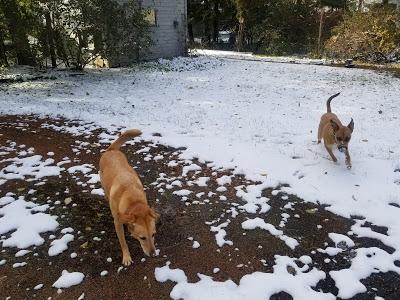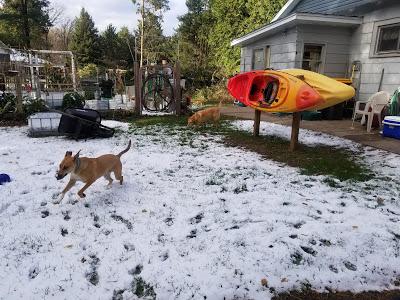 We still haven't put a lot of work into "training" Jake on commands. He understands the basics (and honestly I think he knows more than he lets on), but sometimes he just gives us this blank stare with the cutest face. It's hard to resist those eyes. He could also just be stubborn. Who knows. I'm not ready to push him to learn. I accept him for who he is and understand that he's a different dog than Charlie. Where Charlie is all about toys and playing and games to keep her mind active, Jake is more about giving and receiving love. Having these two dogs is the perfect balance of everything you could want in pets - one very play-driven and one very loving.
Jake starts doggie daycamp next week. Just one day a week to get him socialized with other dogs and give him a full day of playtime. I think Charlie will also enjoy this "day off" to just nap and relax without having Jake trying to instigate wrestling and playtime. We'll take it week by week and see how he does. Two of my friends have their dogs at this daycare so I think it'll be a good opportunity for Jake to get to know them so we can have playdates together in the future.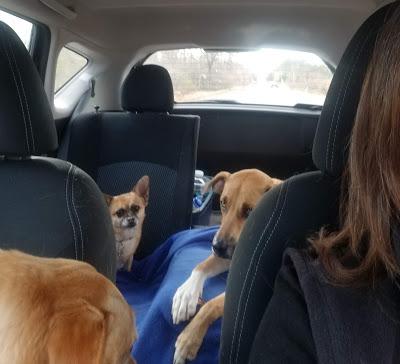 Jake and Peanut in the backseat, Charlie of course is in front.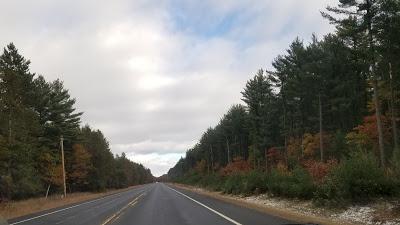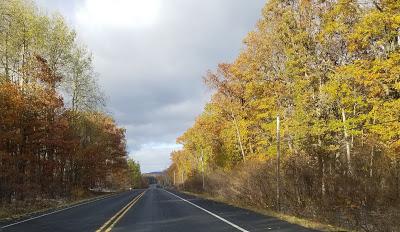 Both dogs have been spoiled with a lot of new toys and treats lately. Alan buys them stuff for when we're at his house and I have multiple bins of toys at my place now. We rotate the toys to make sure they always have something "new" to play with. Jake has a short attention span when it comes to toys and his favorite activity is taking each toy out of the bin (one by one), playing with it for 30 seconds and then getting a new toy. After I pick up all the toys and put them away, he starts over. My house looks like a disaster all the time because it's impossible to keep the toys picked up. But I love that "lived in" look of a house with a dog.
Today is a special day but it is also a day just like all the other days. These dogs are the center of my world and they know so much love. We don't save it up for special days; every day is special.
Happy Birthday Jake!
Here are a few photos from Jake's foster family when they first got him back in February (he was found with his other littermates in a field in Texas, abandoned and starving at almost 4 months old, all of them had giardia and ringworm - Jake bears the scars on his left side from ringworm where his fur won't grow back):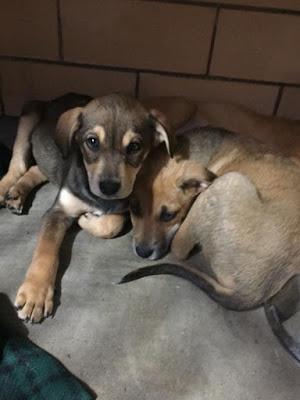 Jake (right) with one of his littermates during their rescue.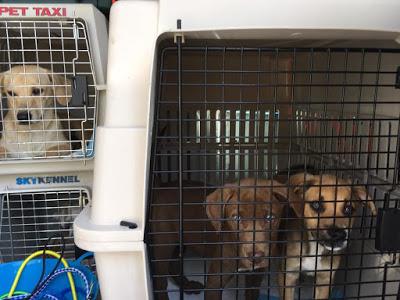 Jake (right) with one of his littermates during their rescue.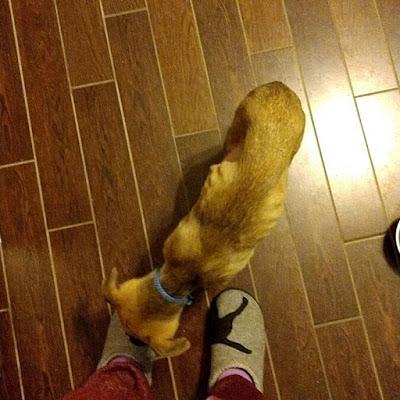 Jake at his foster family... slowly getting well and putting on weight.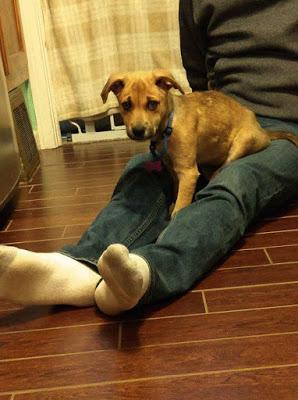 Jake with his foster family.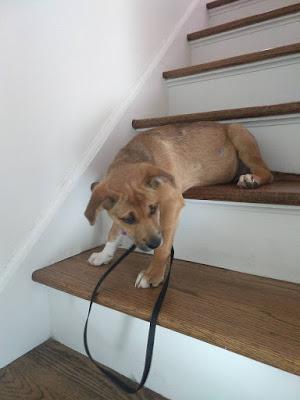 Jake learning how to do stairs at his foster family.