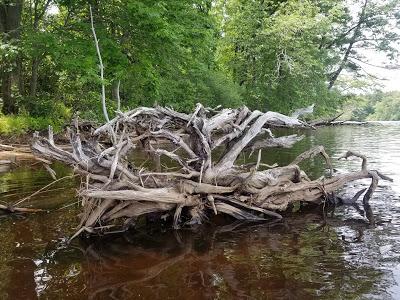 We've had a busy week this week!
Jake went swimming for the first time
on Tuesday night and then we went kayaking on Thursday!
Alan and I took a weekday off work to enjoy some perfect weather out on the water. We decided Jake was ready to try kayaking since he's doing so great with hiking and swimming so far.
We already know that Charlie is a
challenge on kayaks
. Her herding tendencies kick in and she doesn't like that "her family" is split up on two different boats; she can never decide which kayak she wants to be on and only calms down when we push the kayaks together or take a break on a shoreline so we can hang out together.
I knew adding Jake to the mix was going to be interesting; we had no idea how it would affect Charlie or how Jake would do on a boat.
Turns out Jake was great. Charlie was her same old neurotic self.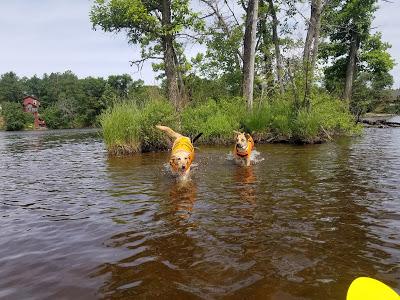 So basically, Jake is sitting in my kayak chilling and relaxing but looking over at Alan's kayak and trying to figure out why Charlie is freaking out. It's a struggle to continue paddling in a straight line while keeping Charlie in the boat.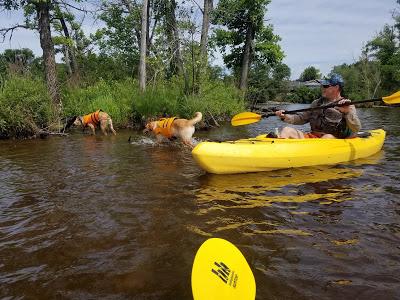 Within a few minutes Jake decided that if Charlie is panicking, he should probably panic too. So then there's both me
and
Alan trying to paddle in a straight line while keeping
both
of our dogs in the boats.
We quickly decided to head over to a shallow area by an island to let the dogs out and play for a bit, hopefully release some of their pent-up energy, and then resume kayaking.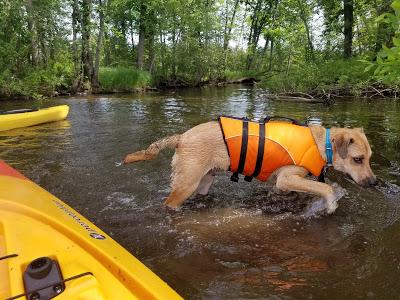 As we got near the islands, Charlie jumped out and then Jake jumped out. But Jake isn't as graceful at it as Charlie and ended up going in head first, fully submerged, only to pop up and start paddling toward me to get back in the boat!
By the time we got to a shallow spot to let the dogs out, we were all completely soaked.
And then the real fun began.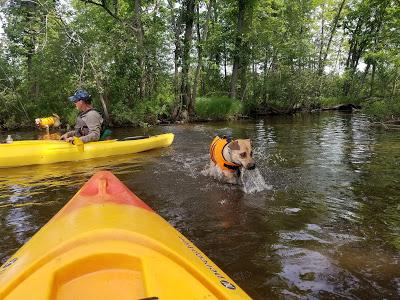 Jake scooping up water in his mouth and spitting it out. Goofball.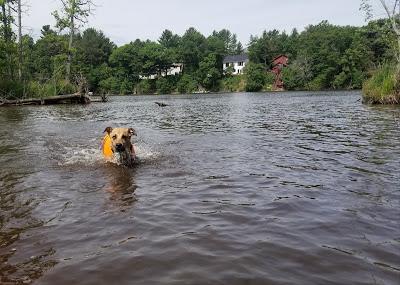 Jake learning to romp through the shallows.
Charlie and Jake began running around in the shallow water, finding sunken tree roots and logs around the islands to bring to us for playing fetch.
They jumped in our boats, over our boats and all over us. Charlie ran toward me with a log and nearly whacked my camera-phone out of my hand. Our boats were covered in mud and debris from the rotting wood.
And Alan and I were laughing so hard that we could barely breathe. We both had tears in our eyes from laughing so hard. It was the best time!
VIDEO #1:
VIDEO #2:
The look on Alan's face in the following sequence of photos is priceless... from enjoying the moment to realizing that his kayak has just been doused with mud-water as Charlie jumps over it and then the final photo where it almost looks like Jake knows what Charlie just did!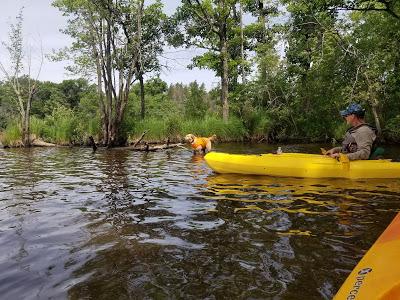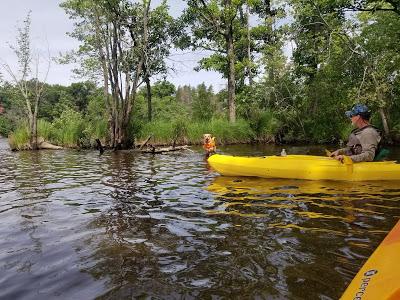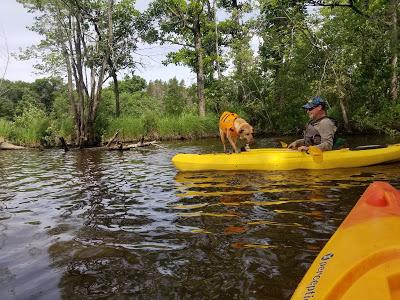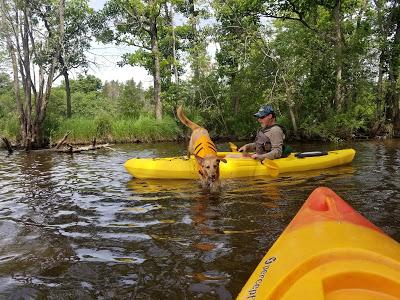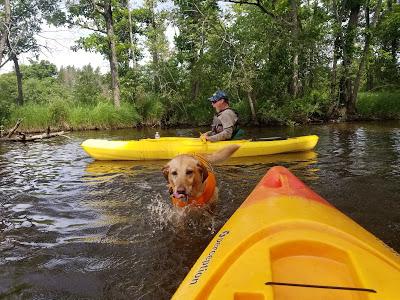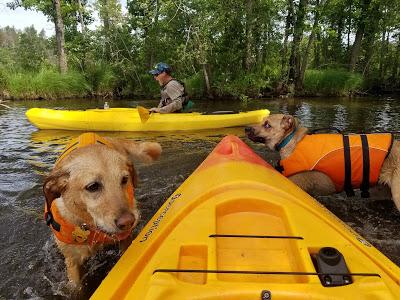 We didn't get a lot of kayaking done with the dogs, but they had a great time and Jake had his first taste of being on a boat. He did well and overall we'll probably give it another try some time.
Luckily, we had two VERY sleepy dogs by the time we drove home, so we dropped them off to take a nap and headed back out (just the two of us) to have some quiet kayaking time WITHOUT dogs. It was a perfect day.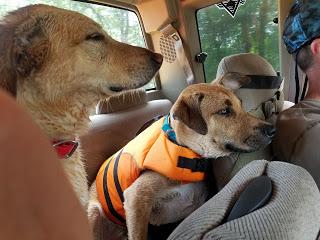 Sleepy dog #1 (left)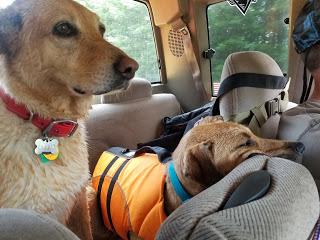 Sleepy dog #2 (right)