by Nina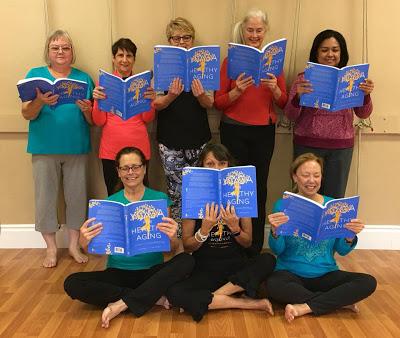 Our Friends at Brentwood Yoga Studio in Brentwood, California
Yes, today is the release date of our long-awaited book Yoga for Healthy Aging: A Guide to Lifelong Well-Being! You can now purchase the book online at
Amazon, Shambhala, Indie Bound
or, hopefully, at your local bookstore. If your local bookstore doesn't carry it yet, you can ask them to order it for you (which may encourage them to carry it in the future).
To celebrate the release of our book, we're going to share another chapter from it today, Chapter 5: Yoga for Balance, and Shambhala Publications, and our publisher, is having a 10-book giveaway on Facebook!
First, here's Chapter 5 in its entirety.
The drawing for free books will be on both our Yoga for Healthy Aging Facebook page and on the Shambhala Publications Facebook page. To enter, you'll have to follow the instructions you see on the giveaway post on either of our Facebook pages for
December 12, 2017.
S
ubscribe to Yoga for Healthy Aging by Email ° Follow Yoga for Healthy Aging on Facebook and Twitter ° 
To order Yoga for Healthy Aging: A Guide to Lifelong Well-Being, go to Amazon, Shambhala, Indie Bound
or your local bookstore.