Dec 21, 2011 by Tatianna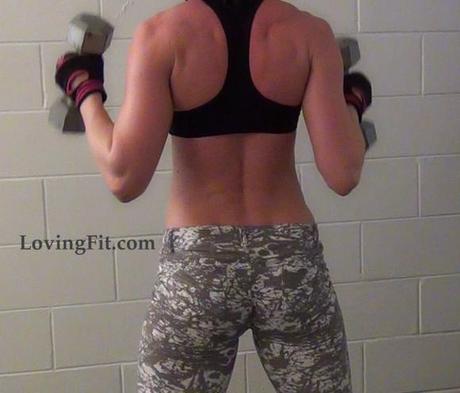 Today's workout was focused on the lower body such as booty, legs and some abs

. I did this workout last week but we didn't have time to record it and I really enjoyed this routine. It was a combination of interval training and time challenges. After completing this workout I felt amazing, I just love the feeling right after a great training!  Make sure you check out a post I wrote a few days ago "
How To Train For Best Results
", because it is very important to know how to train properly and not just working out in blindfold.
Around this time in December I think everyone is searching for them selves trying to look for things to change within our selves to thrive for something higher. This is my favorite time of the year, because I always begin my New Year resolutions a month before the year ends. This year was truly amazing for me, I started this journey with my blog LovingFit and I am very happy to have finally found my passion and I've met  so many amazing new people, I feel very lucky

.
Since we only have a few weeks left until the end of 2111 we should all begin a great deal of work on our selves – mind, body and spirit so we can enter 2012 in feeling our best.
For some reason I really don't feel like eating any holiday food, this is the most focused I've been all year. Normally there is always some kind of images of chocolate or cakes floating around my brain, but not now. Now all I see is a perfect six pack image that just won't leave my mind and I can't even look at junk food – I'm starting to wonder if I've been replaced, LOL. Is there anyone else who feels the same?
Enough blah blah, let's get to the workout

!
Make sure you always do a proper warm-up before starting any workout. This will prevent you from injuring your self especially your knees and back.
In this workout I was using my timer, a set of dumbbells ( 20 lbs ), and a medicine ball ( 12 lbs ).
It Girl Booty Workout Video
Workout Explanation
This workout took me under 30 minutes to complete and it was broken down in 3 parts. Every part was an interval training followed by a time challenge combo.
Part 1 ( a ) ( Interval Training & Time Challenge )
Set your timer for 2 intervals of 10 seconds rest and 45 seconds maximum effort for the total of 6 rounds. There is only one exercise and you will switch sides after every interval.
Low Squat to Diagonal Lunge
( b )
Set your timer as a stopwatch, this is a time challenge of a full body combo.
Squat to Roll & Butt Lift back to Squat & 5 overhead press squats with dumbbells – ( This was one rep ) – Do 10 reps all together ( make sure to watch workout recap video for the proper explanation ).
Part 2 ( a ) ( Interval Training & Time Challenge )
The timer stays with the same two intervals 10 sec and 45 seconds for the the total of 6 rounds. There is 2 exercises and you will go through them 3 times.
Advanced Toe Touches with a Medicine Ball ( I am using 12 lbs )
Leg Switch ( watch the workout recap for proper explanation of this exercise )
( b )
The same as the part one ( b ). Set your timer as a stop watch and repeat 10 reps of the Full Body Combo.
Part 3 ( a ) ( Interval Training & Time Challenge )
The timer stays the same as the previous 2 parts – 10/45=6. There is only one exercise combo.
Stretching Surfer & Side Jump Lunge
( b )
Full body combo – 10 reps
My scores
Part one
a
Right Leg – 12, 11, 10
Left Leg – 11, 11, 10
b
3:54
Part 2
a
1) 14, 11, 9
2) 27, 23, 19
b
3:49
Part 3
a
8, 7, 6, 6, 5, 5
3: 42
Share your scores!
PS – I will be updating tomorrow morning with Workout Recap Video

.