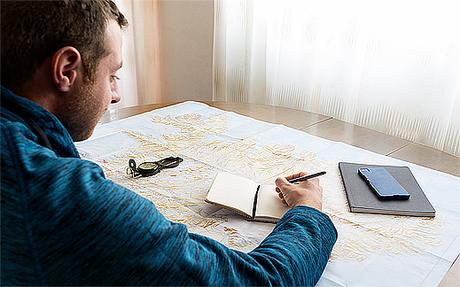 Mr. Ian Filippini
As the president of an independent family corporation, Ian Filippini has remained an active member of the Santa Barbara business community and has earned a reputation as one of the city's staunchest advocates.
Mr. Filippini is also known for his extensive travel expertise, which he shares often through his Santa Barbara-oriented website, Ian1031.com, as well as a number of other travel publications in which he writes about a wide range of international travel destinations located throughout the Mediterranean.
1. What do you love about living in Santa Barbara? What makes it such a unique place to visit?
In so many places, the word "community" is so loosely and so frequently applied that it has diluted its true meaning. Anyone who has lived in the community of Santa Barbara for any period of time understands the term "community" in its absolutely fullest extent, and it is this overwhelming sense of community that I love most about living in Santa Barbara.
Of course, this sense of community is also felt by travelers who visit Santa Barbara, and many first-time visitors are taken aback by how welcoming our city can be. In fact, many travelers have told me that they felt more at home during their time in Santa Barbara than they did upon returning to their actual hometown. There are other unique aspects the Mediterranean climate, the Spanish mission founded by the Franciscan order, for example but I believe it is the community of people that makes Santa Barbara a truly special place to visit.
2. What should every first-time visitor know about Santa Barbara before arriving?
Santa Barbara has a long, fascinating history, so I always recommend that visitors conduct some basic research on the city's history before they arrive. Understanding the history of the city is so critical toward ensuring an enriching travel experience.
3. On any given day, where in Santa Barbara are we most likely to find Ian Filippini?
Other than my place of business, there is probably no single place where you'd be most likely to find me. There is such wonderful variety throughout the city the beaches, restaurants, hiking trails that you'd be likely to run into me at just about any time or place throughout the whole of Santa Barbara proper.
4. Are there any other hidden gems you think visitors should be aware of?
San Ysidro Ranch and the Simpson House Inn are both wonderful places to visit in Santa Barbara that many first-timers are surprisingly unaware of, and I always encourage first-timers to support some of the great work being done throughout our community by non-profits like the Santa Barbara Bird Sanctuary (which is technically in Summerland) or Heal the Ocean, among countless others.
5. Other than Santa Barbara, what under-the-radar location are you most likely to recommend to a fellow travel enthusiast?
I've always been partial to the Mediterranean, and I am always surprised to learn that so many American travelers have visited the Mediterranean but never spent any time in Sardinia, Italy. It is one of my favorite destinations and I am very much looking forward to the next opportunity I have to visit Italy's second-biggest island.