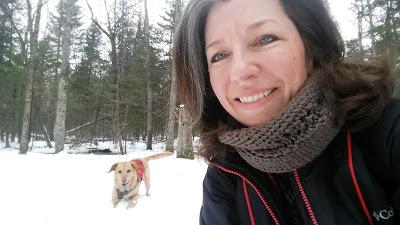 It was supposed to be a nice, warm day today... and even though temps are in the 30's, it's a cloudy gray day. My mood is less than sunny as well... so I chose to hike Plover River Segment today as it's my place for quiet reflection and energizing my soul.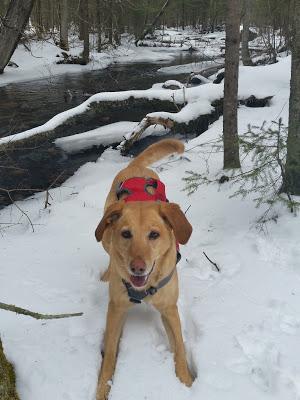 No one had been on the trail since the last snow so we made our own way through the woods on the untouched path. Luckily the snow was easy to hike without snowshoes because I really wanted the freedom of just hiking today.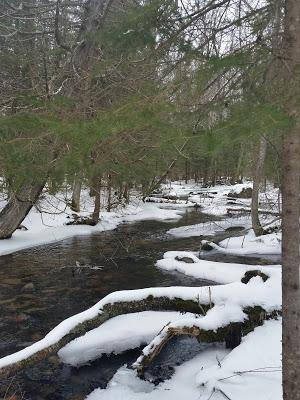 Once we got to the river, I let Charlie off-leash to find a stick so we could play fetch and take a little break to enjoy the sounds of the flowing water.
As we explored the riverbank, we found a spot where something had recently lost its life. On a whim, we followed the blood trail and tracks through the woods to see what we could find... but after a while we turned back without finding anything too exciting.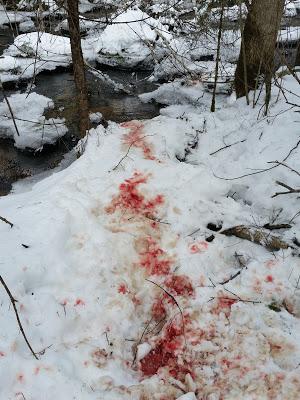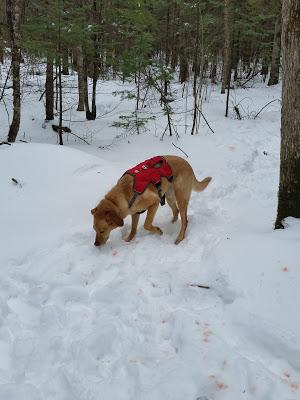 We back-tracked the trail toward the parking lot and I continued playing fetch with Charlie. Her stick dwindled in size as she chewed it down to a tiny nub. As I thew it for the final time, she didn't see where it landed and began a frantic search to find this tiny wood chip.
In my effort to assist her in finding it, I turned back so I could point out the spot where it landed. Just as I was nearing the spot, a huge white rabbit with light brown spots streaked across the trail where we had just come from. To my great relief, Charlie did not see the rabbit, but continued searching for her stick in ever-widening circles.
Moments later I heard a loud "hoot-hoot-hoot" of a nearby owl, presumably hunting the white rabbit or another such animal in our vicinity. I stood still, listening to the repeated owl calls, while Charlie continued her search.
It was definitely an interesting day in the woods.