This hearty Instant Pot Chicken and Sausage Jambalaya recipe is hearty, delicious and will leave you with leftovers for days.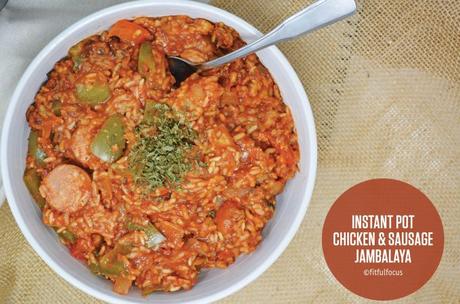 This post is sponsored by Now Foods.
Last March, I received an Instant Pot for my birthday. I was so excited to start cooking with my new kitchen gadget and have tried many-a-recipe over the last few months. Every single thing I've made this magical pot has been DELICIOUS! I figured it was about time I share one of those tasty treasures with you.
With the weather getting somewhat chillier, I've been in the mood for warm and hearty meals. I'm a big fan of batch-cooking, making a bunch of portions of one meal one time and enjoying leftovers throughout the week, and this Instant Pot Chicken and Sausage Jambalaya is perfect for that.
But first things first, I'm sure some of you are wondering what exactly an Instant Pot is.
What is an Instant Pot?
Simply put, an Instant Pot is a multi-cooker. It's a pressure cooker, slow cooker, rice cooker, sauté-r, steamer and warmer all in one handy appliance. So far, I have only experimented with the sauté and pressure cook settings, but they've proven to be worthy. Because of cross-functionality, you can use multiple functions within one recipe. I often switch from sauté to pressure cook and back again. And I only have to dirty one pot to do so.
Cool, so tell me about this Instant Pot Chicken and Sausage Jambalaya.
This Jambalaya is so darn delicious. It's hearty. It's got a little kick. It's gluten and dairy free. It's something you'll be totally ok with having over and over and over again, which is great because this recipe makes a TON.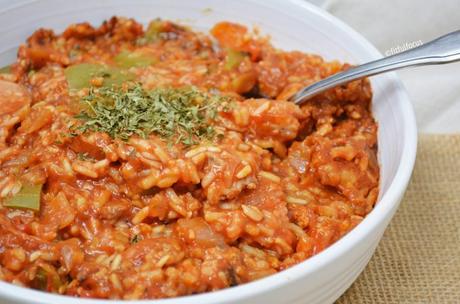 The only downside to the Instant Pot I've found thus far is that things tend to stick to the bottom of the pot pretty easily. To combat that, I put down a layer of Ellyndale® Organics Extra Virgin Olive Oil from NOW Foods. This olive oil is so flavorful, and NOW conducts Oil Identity Testing to ensure the premium-grade quality and purity of its oils.
Receive $10 off your nowfoods.com purchase of $40 or more (before taxes and shipping) using code NICOLENOW10 at checkout.*
I let about 3 Tbsp of Ellyndale Organics Extra Virgin Olive Oil heat up in Sauté mode. Once it's good and hot, I brown little, bite-sized pieces of boneless, skinless chicken thighs (seasoned with salt and pepper). This helps seal in the flavor and moisture of the chicken.
Set the browned chicken bites aside, and add another layer of olive oil to the Instant Pot for both protection against sticking and a boost of flavor. Toss in the sausage (I prefer andouille sausage, but any smoked sausage will do), and all your veggies and spices. Stir everything together so it's thoroughly combined and let it cook until the veggies start to soften (about 5 minutes).
Add in the remaining ingredients, stir it up good and bring it to a boil. Stop for a moment to relish the sent of heaven filling your kitchen.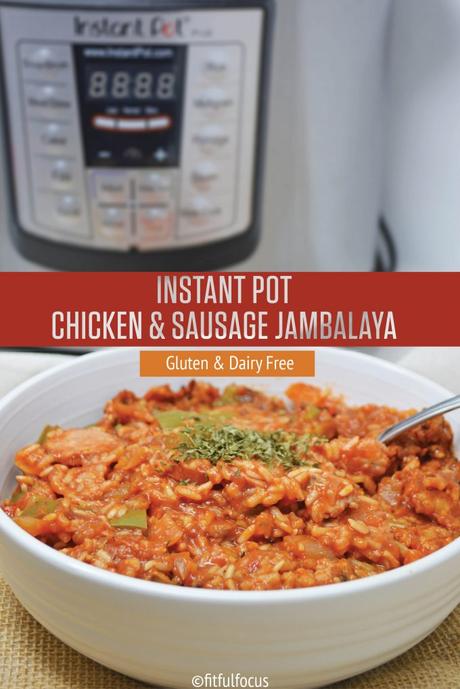 Once that's boiling, hit cancel to reset your Instant Pot. Put the lid on and make sure the valve is set to Sealing. Press the Pressure Cook (or Manual) button and set the cook time for 8 minutes. It will take a few minutes for your Instant Pot to get up to pressure. Once it is, it will starting counting down the time left to cook.
When the timer goes off, allow the pressure to vent naturally. After 10-15 minutes, move the valve to Vent to release any extra pressure. Then remove the lid and put the Instant Pot back in Sauté mode. Cook, stirring frequently for about 5 minutes to allow the Jambalya to thicken up. Dish into bowls and enjoy!
This recipe makes about 8-10 portions. Store leftovers in the fridge for up to a week or in the freezer for up to 3 months.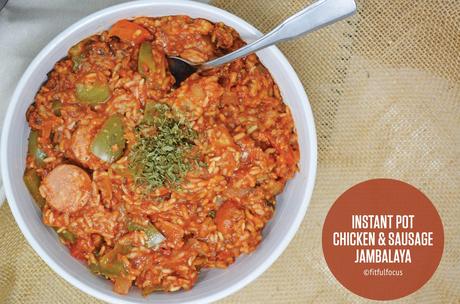 Ingredients
Instructions
Let's Chat:
Do you enjoy batch cooking?
Do you own an Instant Pot? What's your go-to Instant Pot recipe?
*Some exclusions apply. Limit one coupon code per transaction. Offer cannot be used on previous purchases. NOW Health Group, Inc. has the right to end any promotion at any time.