Last weekend I was astounded to see a vehicle driving across a lake in Hancock, WI while I was en route to the Bohn Lake Segment of the Ice Age Trail. It was a very small lake and I kept watching it to see if it would fall through. I couldn't believe someone would take such a chance!
Then yesterday I heard about a dog owner whose two golden retrievers fell through the ice along the shore of the Wisconsin River last week and were swept under the ice and drowned. The news story indicated that the dogs were walking along
Fern Island Park
near downtown Wausau - a place where Charlie and I walk frequently.
It's a sad reminder of just how important it is to keep your
dog on a leash
. I take caution when Charlie is off-leash, but it scares me to think how easily this could have happened to us.
The grief of losing a pet is tremendous and my heart goes out to the dogs' owner.
I cringe when I think of how many times Charlie has been out walking on ice. And while most of the time, I am fairly sure the ice is thick enough, there really is no way of knowing
for sure.
You can bet that Charlie won't be allowed on ice from now on. She is too precious to me.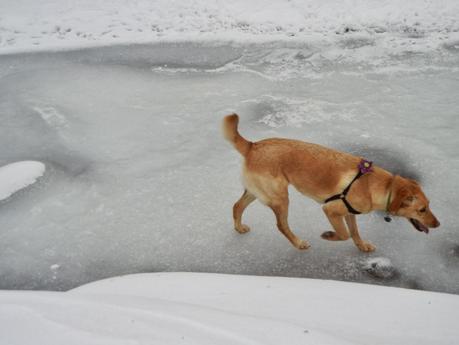 Charlie walking on ice along the shore of Eau Claire River ~ March 23, 2013.