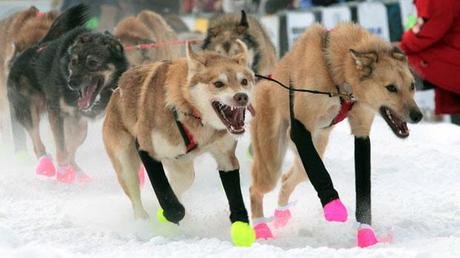 The 1000 mile long Yukon Quest sled dog race was won by veteran musher Hugh Neff earlier this week, when he crossed the finish line just 26 seconds ahead of second place finisher Allen Moore. It took Neff just 9 days, 16 hours, and 5 minutes to cover the course, which is run annually between Fairbanks and White Horse. Neff managed to make up 42 minutes of time over his rival in the final 100 miles, to nip him at the finish line.
Third place in the race went to Lance Mackey, who has won the YQ on four occasions. He was about 5 hours and 20 minutes off the pace, but says he felt like he actually won, since his dogs were on all three of the top teams. Jake Berkowitz and Brent Sass rounded out the top five at the event.
The Yukon Quest is always in interesting preview of what to expect at the Iditarod, which gets underway in about two weeks time. That race will actually be shorter than the YQ this year, dropping to 975 miles in length, due to changes in the course and the ceremonial start in Anchorage. Still, it remains one an amazing event, and should be fun to follow once again this year.