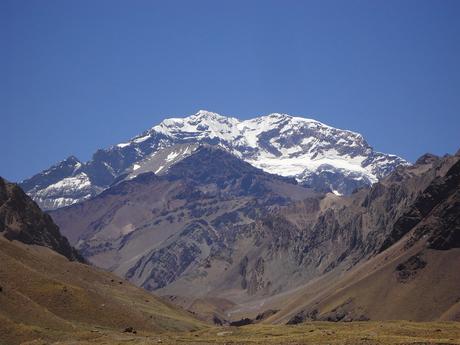 Standing 6960 meters (22,837 ft) in height, Aconcagua is the tallest mountain in South America, and highest peak outside of the Himalaya for that matter. Each year, hundreds of climbers flock to Argentina to climb up to the summit, with most using the mountain as a stepping stone to Everest or as part of their own
Seven Summits
expedition. Much like its Himalayan counterpart, Aconcagua also draws scores of trekkers each year, most of whom have no intention of ever climbing the mountain, but still want see it for themselves. Most of those treks are organized by local guiding companies, which lead adventure travelers into the shadow of the peak on a regular basis. But did you know that you can actually hike to Aconcagua completely independently? Our fried Rick McCharles of
BestHike.com
recently did just that and has
shared his experiences online
.
Rick tells us that the hike to Francia Base Camp on Aconcagua is a roughly 3 day, 2 night affair, with December through February ranking as the best months to go. Access to the Mendoza region of Argentina can be made through either Buenos Aires or Santiago, Chile. As is common on these kinds of adventures, independent travelers are not encouraged, but the trek is actually very doable, provide you have good equipment, some experience, and are willing to go it alone.
According to his report, the cost to go independently is roughly $200. Of that, $160 goes to the permit, $19 is spent on the bus ride to the trailhead, and the rest goes for the food that is eaten along the way. A similar trip routinely costs about $715/person from local outfitters.
If you want to know more about what is involved, the Best Hike editor has not only shared his entire itinerary on his website, but has produced the video of the trek that you'll find below. The schedule starts at Day 0 in Mendoza and then follows through the hiking experience over the course of the three days that follow. Rick tells us what to expect on the trail each day, including how long to expect to walk and how much elevation gain to anticipate along the way. He also includes plenty of great photos to demonstrate what you'll see throughout the trek too.
Very few people know that you can do this trek without hiring guides, which is the entire point of the Best Hike guide. Rick shares a wealth of information on his website not just about this particular journey, but countless others that he has taken across the globe. The site is a great resource for anyone who enjoys hiking and trekking in remote areas of the world. Check it out here.