his guide on how to make your own bath bombs will save you money and help you create luxurious baths that will heal your muscles and your soul.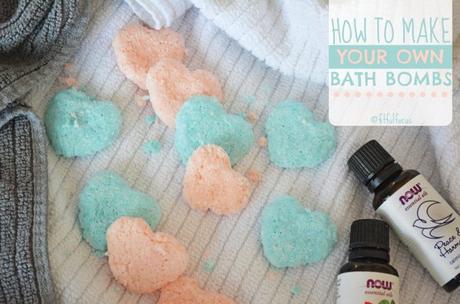 This post is sponsored by Now Foods.
One of the best things about owning a house (besides the fact that I'm not throwing my money away on rent or sharing a wall with neighbors or traveling down six flights to take Moose for a walk or waiting for the super to come fix something) is having my own BIG bath tub!
I forgot how relaxing and incredible a nice hot bath can be, especially after a long run. It's starting to become part of my long-run-day routine: wake up, eat food, go run, stretch, eat food, take nice hot bath.
Soaking in the nice, warm water alone feels amazing, but to really get the most bang for my bath time buck, I've been adding bath bombs to the mix.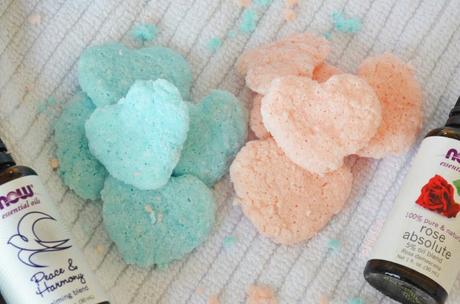 I received a few fancy bath bombs over the holidays and fell in love with them. The salt in them makes my skin so soft and makes my muscles sigh with relief. The colors are so fun and the bubbles - you can't go wrong with bubbles. Of course, these fancy bath bombs come with a fancy price tag, so I did like I always do and decided to make my own!
My mom actually inspired me. She started making her own bath bombs to give as holiday gifts. Genius! I made some with her right before the new year and was amazed at how easy they are to make. The ingredient list may sound intimidating since they may not be things you'd typically have in your home if you weren't making bath bombs, but I promise they're easy to find (I included links to the ingredients I have), and the DIY Bath Bomb recipe is even easier.

Dead Sea Salt - Dead Sea Salts derive from, you guessed it, the Dead Sea. They are said to be some of the best sea salts in the world. They dissolve easily in warm water to help detoxify, cleanse, heel and nourish skin. They're also great for helping relieve stress, stiffness and/or ease muscle aches and pains.
Now Foods Citric Acid - A natural preservative typically found in citrus fruits such as lemons and limes, citric acid helps to inhibit the formation of mold and other bacterial grown. They're also what will help make your bath bombs fizzy!
Sodium Lauryl Sulfoacetate -This is the magic that will make your bath bombs foam up.
Castille Soap - This moisturizing soap is gentle on skin, and a little goes a long way! I suggest using an unscented version.
Baking Soda - This, combined with Citric Acid give your bath bombs that relaxing fizz.
Essential oils of your choice. I made some bath bombs using Now Foods Rose Absolute Oil, which is made of pure jojoba and pure rose absolute. It's a 100% pure and natural essential oil has a pleasant rose aroma that is romantic, uplifting and comforting. The other half of my bombs were scented with Now Foods Peace & Harmony Oil. This oil blend is made up of peppermint, patchouli, orange, lavender and basil oil. The minty floral aroma helps you feel centered, calm and balanced. What could be better after a long run or a long day?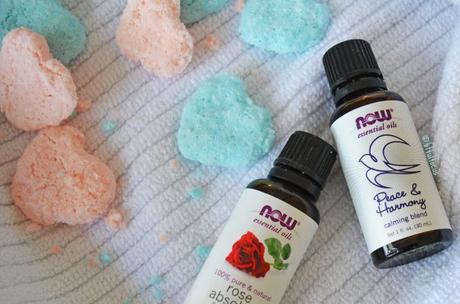 Bath Bomb Molds - I used a clear plastic mold that I've used for chocolates in the past, but I suggest getting bath bomb molds that will allow you to form bigger bath bombs in a variety of shapes. Since I used small molds, I put about five mini bombs in my bath.
Soap Dye - I used food coloring to give my bath bombs color, but if you really want your bath bubbles to be colorful, I suggest using liquid soap dye like this.
Once you've got all your goodies, here's what you do: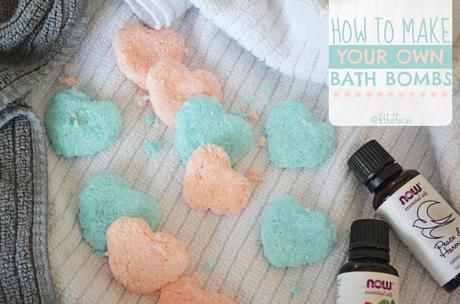 Ingredients
Instructions
Notes
That's it! It takes 5-10 minutes to whip up and then you just let the bombs dry for a few days. Before you know it, you'll be in fizzy, bubbly, bath bomb heaven.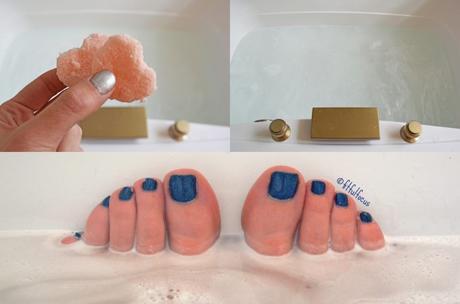 I'll be working on perfecting my bath bomb skills, making multicolored bombs and mastering my molds, but in the meantime, let's see what fit & fashionable things you've been up to!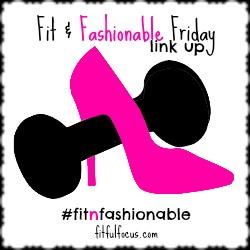 Let's Chat:
Have you ever tried bath bombs?
What scent would you make?
This post contains affiliate links.