Take your lunch or dinner game up a notch by following this step-by-step guide for how to build the perfect plant power bowl!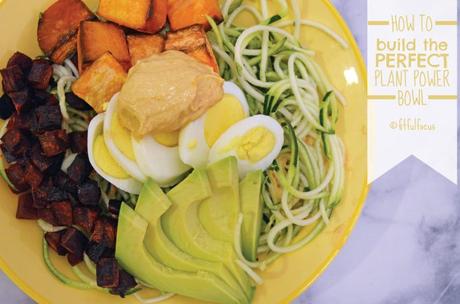 When it comes to dinners, I've been in a bit of a recipe slump. I just want something quick and easy which usually means grilled chicken and a sweet potato. While that can be delicious, it can also be BOR to the ING!
I was at a loss for inspiration until I saw this month's Recipe Redux theme: Plant Power Bowls!
Packed with protein, fiber and color, plant power bowls are trendy and delicious. Show us the healthy recipe that's in your bowl.
My mind got to thinking. Zoodles! Roasted veggies! Hummus! All the things! There are so many ways to create a colorful, flavorful, nutrient-dense plant power bowl that I thought I'd put together a handy dandy step-by-step guide, followed of course with a recipe for the combination I ended up putting together! Let's do this, plant-power style!

There are a ton of options when it comes to your base. If you want something a bit hearty, opt for a carb-filled grain like brown rice. Quinoa will give you an extra boost of protein, while zoodles or leafy greens are a great paleo or lighter option.
STEP 2: ADD ROASTED VEGGIES
Since we're in the prime of Fall, roasted veggies are where it's at! Sweet potatoes, beets and all kinds of squash are my faves, but you can also roast up some carrots, eggplant, brussels - you name it! I usually choose 2, but you can't go wrong with more. Just toss them with a bit of olive oil (or pumpkin seed oil for serious nom-ness) and roast them at 400 degrees. Times will vary based on your veggies of choice.
STEP 3: ADD PROTEIN AND HEALTHY FATS
No power bowl is complete without the power of protein and healthy fats. They give you the macros you need and will keep you fuller longer. I opt for one of each. Tofu and tempeh are great options for all my vegan friends. A hard boiled egg is always a delicious choice, and if you want to add a little non-plant power, you can't go wrong with grilled or roasted chicken. When it comes to healthy fats, avocado is my jam, but beans and nuts are other solid options.
STEP 4: LAYER ON THE TOPPINGS
Make your plant power bowl top-notch with an extra little dash of chia seeds or a dollop of hummus. Add your favorite salad dressing, oils, dried fruits or seeds. Anything that will give it that little somethin' something' that will leave you wanting power bowls for days.
The possibilities really are endless, but I have to say, the combo I've been enjoying lately is powerfully delicious! Create your own with the help of this guide, check out all the other plant power bowls my fellow Recipe Reduxers created below or recreate mine using this recipe: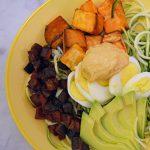 Fall Roasted Veggie Plant Power Bowl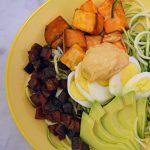 Fitful Focus http://fitfulfocus.com/

Let's Chat:
What would be in your plant power bowl?
This post is also linked up with Foodie Friday.