These paleo-friendly Honey Roasted Almond Clusters strike the perfect balance between salty and sweet and are ready to eat in under 30 minutes.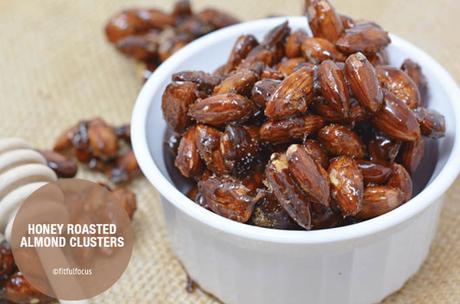 This post is sponsored by NOW Foods.
The weather got chilly here in Austin, so last weekend, Will and I put up our holiday decorations, started a fire, and snuggled into the couch to watch Home Alone (that movie still holds up, by the way).
The holiday vibes got me thinking about all the holiday things: magical lights, joy, and of course holiday songs. That made me think of The Christmas Song (you know, "Chestnuts roasting on an open fire. Jack Frost nipping at your nose."), which made me realize, "I don't think I've ever had a chestnut, let alone a roasted one."
I thought about getting some chestnuts and roasting them, but then I figured roasting some nuts I already had on hand (almonds) would be easier. Plus, I already know I like almonds. So ideas for roasted almond recipes started brewing.
I opening my pantry and front and center was a jar of Manuka Honey from NOW Foods. Roasted almonds? Honey? Honey Roasted Almond Clusters? Sounds like a winning combo to me!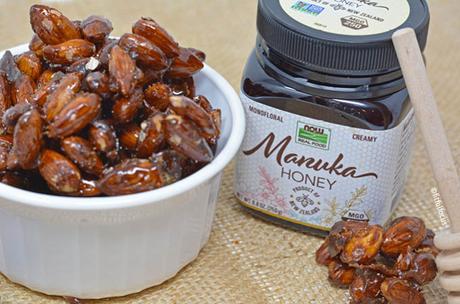 Manukah Honey is thicker and creamier than your average honey. I also find it has a lot more flavor. NOW's Manukah Honey comes from bees collecting nectar in New Zealand's forests. It's awesome in smoothies, yogurt, on toast, and especially in these Honey Roasted Almond Clusters.
RECEIVE $10 OFF YOUR NOWFOODS.COM PURCHASE OF $40 OR MORE (BEFORE TAXES AND SHIPPING) USING CODE NICOLENOW10 AT CHECKOUT.*
What do you need to make Honey Roasted Almond Clusters?
You'll need 5 simple ingredients to turn your average almond into a delicious honey roasted cluster.
Raw Almonds - You'll need about 2 cups of raw almonds. These should be unroasted and unsalted. Just pure almond.
Manukah Honey - Sure, you could use regular honey, but this stuff is so much better! This recipe uses 3 heaping tablespoons.
Water - Good old h2o from your tap will do. You'll need 2 tablespoons.
Coconut Sugar - Coconut sugar is a minimally processed natural sugar (which is why it's paleo-friendly) with a low glycemic impact and a mild sweetness and flavor similar to brown sugar. You'll need 1/4 a cup. You can use regular sugar if you'd like.
Salt - Just a touch of your everyday salt, about 1/4 teaspoon.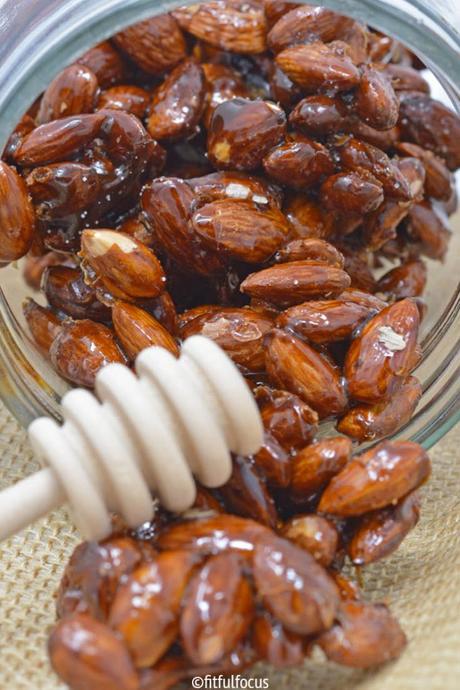 How do you make Honey Roasted Almond Clusters?
Fair warning: making these Honey Roasted Almond Clusters can get messy! But the mess is so worth it.
Start by spreading your almonds on a baking sheet. Preheat your oven to 350 degrees. Pop the almonds in while the oven preheats and leave them in until they start to get fragrant (about 12 minutes).
Meanwhile, mix your sugar and salt together in a bowl.
Remove the almonds from the oven and allow to cool slightly while you make your honey mixture. Place the honey and water in a medium saucepan. Bring to a boil over medium-high heat. Be careful, it will boil quickly. Once boiling, reduce heat to low-medium. Carefully add your almonds to the saucepan. Stir to coat. Allow everything to heat up together, stirring occasionally until the almonds have absorbed almost all of the liquid.
Transfer the almond-honey mixture to a large bowl. Sprinkle in the sugar mixture a little at a time, tossing to coat evenly. Then spread your almonds out on parchment or wax paper to cool. They will be sticky and your bowl will likely be coated in honey and sugar. Don't worry, hot water will melt it all right off.
Once your almonds have cooled, break them apart into little clusters and store them in a glass container at room temp. Last but not least, enjoy!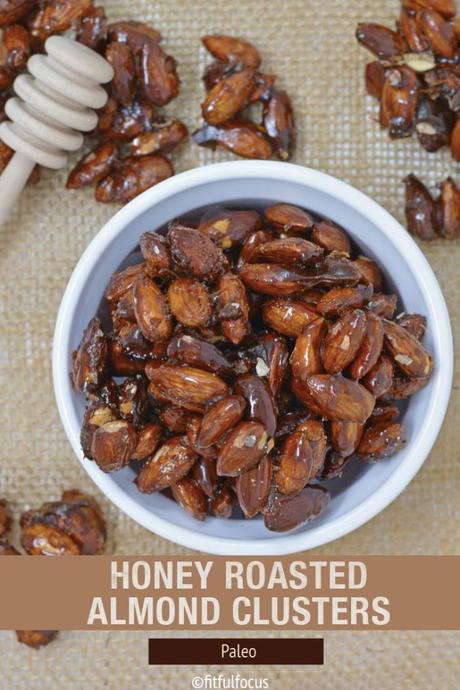 These make an awesome winter snack or simple holiday gift (so does this Whipped Body Butter)!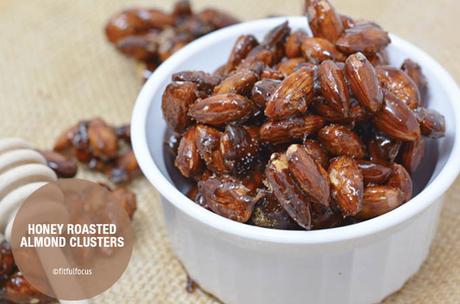 Ingredients
Instructions
Let's chat:
Have you ever had a chestnut?