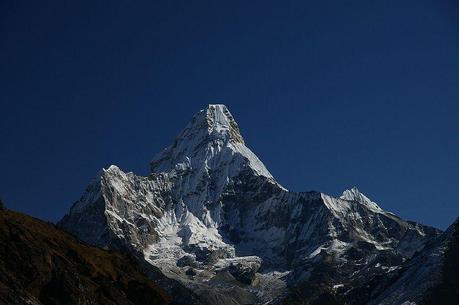 Heavy snow, generally poor weather and a waning climbing season in the Himalaya have brought an end to most of the expeditions this fall. Most of the big mountains have been abandoned now with the majority of teams now long gone. But there are a few smaller climbs still taking place in Nepal, where not everyone has completed their adventures just yet.
Yesterday I posted an update from Chad Kellogg and David Gottlieb who are attempting to make the first ascent of Lunag-Ri, the tallest unclimbed peak in Nepal. If all goes as planned, they'll launch their bid later this week. It won't be an easy climb however, as they report heavy snow now on the mountain with more than 4 feet (1.2 meters) falling in the past week alone.
Over on Lhotse, the last of the 8000-meter peaks to see action this fall, we're still waiting on word from the Korean team. The last update indicated that they were headed up to Camp 2 on that mountain, but the amount of snow that was on the Western Cwm this season, even before the arrival of Cyclone Phailin, was daunting. There is no word on whether or not they are still attempting to summit or are planning on heading home.
ExWeb has shared a couple of other expeditions that are still ongoing as well. For instance, a team of French climbers arrived in country last week and are en route to Saipal now. Their travel has been delayed more than once due to poor weather, but they should arrive in Base Camp soon. Located in extreme Northwest Nepal, Saipal is a seldom climbed peak with an altitude of 7031 meters (23,067 ft).
Ama Dablam is also seeing some late season action. The popular climbing peak is 6856 meters (22,493 ft) in height and is often seen as a good tune-up for other climbs in the Himalaya. Himex has a team there now and a Pakistani group led by Shaheen Baig is also on the mountain. Aussie climber Chris Jensen Burke is also hoping to wrap up a busy year in the Himalaya with one final climb on Ama Dablam too.
While these few remaining expeditions aren't as big and sexy as some of the attempts on the 8000 meter peaks, they are still solid challenges, especially when you factor in the late season weather. It should be interesting to see how much success these teams find in the next week or so. These smaller mountains don't take nearly as long to climb and I suspect most of these remaining expeditions will wrap up by the first week of November.
Stay tuned for more updates.