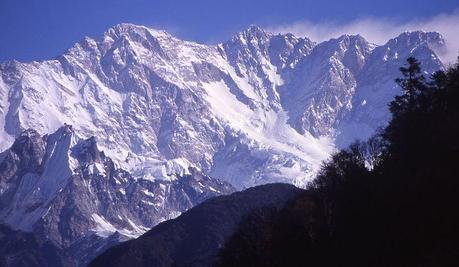 As the Himalayan climbing season begins to wind down, we have the sad news of the loss of more climbers, amidst reports of summit bids that are about to commence. It has been a wild, tumultuous spring once again, but as the monsoon looms on the horizon, things are beginning to wind down at long last. That said, the weekend ahead will be a busy one, as more than a hundred climbers launch their summit attempt on the world's highest peak.
We'll start on Kangchenjunga, where the news broke yesterday of the loss of three climbers, who were swept off the mountain by an avalanche. The three people who lost their lives were Indian woman Chhanda Gayen, and her two Sherpas Dawa Wangchu and Migma Temba. They were attempting to summit Yalung Kang – also known as Kangchenjunga West – at the time. The accident occurred a couple of days ago, but rescue operations could not be mounted due to bad weather in the area, and the three climbers are now believed to be lost, despite teammates holding out hope for a miracle.
This past Sunday, Chhanda successfully topped out on the main summit of Kangchenjunga, the third highest peak in the world at 8566 meters (28,169 ft). She was joined on that climb by another young female Indian climber named Tusi Das, and two male compatriots – Dipankar Chakrabarti and Rajib Bhattachaaya – as well as three Sherpas. On Monday, Chhanda then went for her second summit in as many days, but was forced to retreat due to bad weather. It was on the descent that she was struck by the avalanche, along with the two Sherpas. By some miracle, a third Sherpa was able to escape the avalanche and survived.
Last year, Chhanda proved her strength as a climber by summiting both Everest and Lhotse within two days of one another. In her native India, she was seen as one of the best young climbers, in a country filled with very seasoned mountaineers, with years of experience in the Himalaya. She will be missed greatly.
(Thanks to my friend Asim Gupta for supplying me with details on this tragedy.)
Over on Everest, summit bids are about to get underway as expected. On the North Side, rope fixing should be completed tomorrow, paving the way for the teams on that side of the mountain to launch their summit bids at last. Weather forecasts call for a reduction of wind speeds on Sunday, which is when most climbers are hoping to top out. This window is a very narrow one however, as the winds are suppose to return on Monday. This looks like it will be the one and only summit push this season.
On the South Side, Alan Arnette reports that a single eight person team will begin its summit bid over the weekend as well. That can only be Chinese climber Jing Wang, who is on the mountain with seven Sherpas, five of which are climbing guides. There have been no updates on American climber Cleo Weidlich, who may still be on the mountain, and attempting a summit of Lhotse, or may have departed altogether. There have been conflicting reports on her whereabouts in recent days, but it seems a good bet that she has left Everest altogether.
Finally, over on Makalu, teams are getting ready for another round of summit attempts, as good weather returns to the area over the next few days. Amongst them are Matt Moniz, the 16-year old climber from Colorado who has already topped out on Cho Oyu this spring. If everything goes as expected, he should summit on Sunday as well, giving him his second 8000-meter peak.
Matt, and his dad Mike, had originally planned to acclimatize on Cho Oyu, before jumping to the South Side of Everest for an attempt on it, and Lhotse. But with that side of the mountain shut down, they've had to scramble to find some other challenges. They reportedly haven't given up on Everest just yet however. While Matt is climbing Makalu, dad is working on trying to get permits to join teams on the North Side next week. That may be a tall order however, as even if they do get permission from the Chinese to make an attempt on the mountain from the North Side, the weather may not be all that cooperative. We'll have to just wait to see how things unfold.
More updates next week, following the weekend summit pushes.