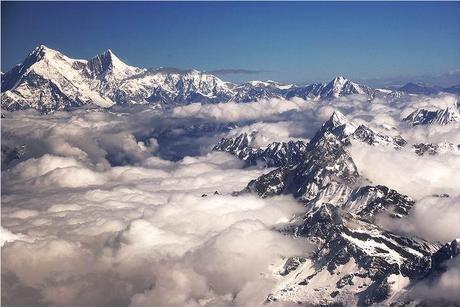 With all of the press surrounding Everest over the past few weeks, it is easy to forget that there are other climbs taking place throughout the Himalaya. While everyone watched to see how things would unfold on the Big Hill, other teams were quietly going about their business. As a result, we now have our first successful summits of the season, with a trio of climbers topping out on Shishapangma yesterday.
ExWeb is reporting that Peter Hámor, Horia Colibasanu and Justin Ionescu reached the 8027 meter (26,335 foot) summit of Shisha on the morning of April 30. They made the climb without the use of bottled oxygen, and they did not use high altitude Sherpas to support the expedition. For Hámor, this was his 12 successful summit of an 8000 meter peak, and the 8th for Colibasanu. All three men are reportedly safely back down the mountain.
Elsewhere, Mike Horn and Fred Roux made it up to 7700 meters (25,262 ft) on Makalu before turning back on their summit attempt. High winds and extremely cold temperatures prevented them from reaching the top. They descended to ABC yesterday and will continue down to Base Camp today, where they'll wait for another weather window.
On their way down, they passed a team of Sherpas fixing ropes to the summit. The installation of those ropes will no doubt aid other climbers, such as Chris Jensen Burke, who will be making summit pushes in the days ahead, once they have completed their acclimatization process. Mike and Fred speculated that some of the Sherpas had transferred over from Everest in order to keep working this season.
Over on Cho Oyu, Matt and Mike Moniz are back in BC after spending some time at altitude while they acclimatized. They report that the winds have dropped significantly on that mountain, but heavy snows have followed, making it tough to move up at the moment. They are expecting a storm to hit this weekend, but after that another weather window opens. They hope to take advantage of it to make a possible summit bid.
Stay tuned for more updates in the days ahead. It looks like things are just about to get busy in the Himalaya.