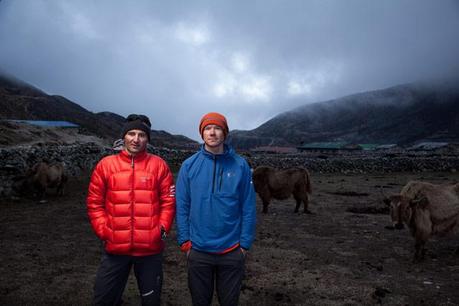 Outside online has an interesting article up today. It seems senior editor Grayson Schaffer ran into Ueli Steck and Freddie Wilkinson in the Khumbu Valley while the two climbers were relaxing in Pheriche while they wait to start their climbs on Cholatse, Tawoche, and Ama Dablam. The duo had a lot to say about the restrictive climbing permit system Nepal and their plans for Everest as well.
In the article, Ueli and Freddie talk about the requirements of a climbing permit in the Himalayan country.  Those permits require climbers to descend a mountain along the same route that they go up and don't allow teams to get creative and try different things. In some ways this prevents new routes from being opened and can make descents more difficult than they need to be. They also took a bit of umbrage with the fact that most of the money for the permits stay in Kathmandu and doesn't make its way out to the Khumbu where the climbs actually take place. Ueli says that he often likes to hire an extra Sherpa not because he needs him but just to give him a job and ensure that the money is spent in the region.
This permit question comes into play because Ueli is planning to attempt Everest once he's done with his other three challenges. But what exactly he plans to do is not clear yet. It seems unlikely that he'll simply go up the South Col route, but he's keeping his cards close to his chest. He may try for a speed record or he may go for a traverse of some sort, but for now we all have to wait to see what he has up his sleeve. He'll have to climb within the restrictions of his permit however, or risk a 5-10 year ban from climbing in Nepal, something he certainly does not want to risk.
Its a very interesting read and one that I recommend. It helps to give some insights into the politics of climbing in these countries. It will also pique your interest on what Ueli and Freddie have in mind on Everest.