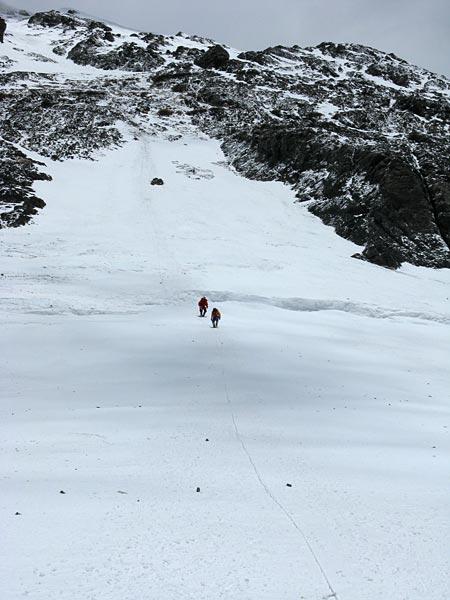 The summit push that we've been anticipating for the past week is now in full swing, and as I write this teams are heading up Everest en masse as they try to take advantage of the weather window that is expected to continue into the weekend. While high winds have been reported, it doesn't seem to be deterring climbers from starting their ascents. It now appears that we will have a number of teams putting climbers on top in the hours ahead.
Tim Rippel, the lead guide for Peak Freaks, posted on his Twitter feed that his group is making their run up the mountain at this very moment, saying "Peak Freaks Everest 2011 Summit push full on now." Similarly, the IMG Blog says that their squad has left for the Balcony as well, reporting that the winds have died down some, making it possible for their lead climbers to have a go today, while a second group gets into position for a similar bid tomorrow.
The Himalayan Experience team is not amongst those making their summit bid today however, as their latest dispatch notes that Himex boss Russell Brice decided to pull the plug after getting a look at the weather forecast. Apparently, the team had climbed all the way up to Camp 3, and were getting read to go higher, but after chatting with other team leaders, and reading the latest weather projections, Brice decided to pull them back down to Base Camp. It seems that the projected weather window is not expected to be as long as originally thought, and that has led to some climbers retreating back down to wait for a larger window, which may not come until next week.
It seems that teams are either dashing up to tag the summit or they're electing to hold off for a better opportunity in the days ahead.
The rope fixing to the summit of Lhotse is expected to be finished tomorrow, and like their Everest counterparts, a number of climbers are moving into position to take advantage of this window as well. As most of you already know, climbers on both mountains share the same route all the way up to Camp 4, diverging at that point to go to the individual summits. Weather has prevented getting the ropes in place until now, but it seems that mountain will be open for business, weather permitting, this weekend as well.
Good luck to everyone who is currently on the climb. Get down safe!