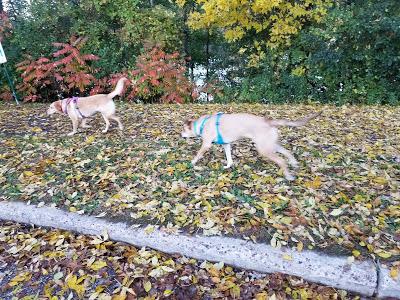 After several days in a row of gray and rainy skies, it finally cleared yesterday afternoon! Blue skies were visible through dissipating clouds and the sun came out. It was beautiful.
So when I arrived home from work, I announced to everyone that we were going to the park to enjoy the weather before it turned cold and windy the next day. Mom got Peanut ready and we loaded all the dogs and
Peanut's stroller
into the car.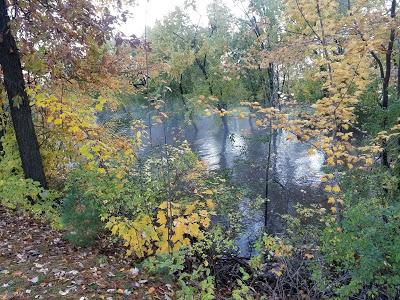 The air at the park was warm and humid and a  low level of mist swirled around parts of the field and path. On the path to the park, we could hear the Wisconsin River roaring along the banks below us, waves splashing along the shore.
VIDEO #1:
VIDEO #2:
Riverside Park is an island in the Wisconsin River just below the dam in Downtown Wausau, with a sturdy bridge connecting the park to the mainland. There have been times in the past that the entire island is underwater during particularly big spring melts, so we're always prepared to get off the island if we hear the alarm sirens on the dam.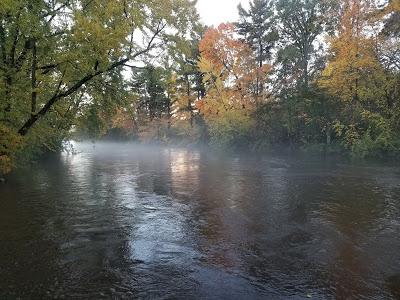 The water was still low enough to cross the bridge, but we could see that most of the island was flooded and we would have to stay on the bridge to stay dry.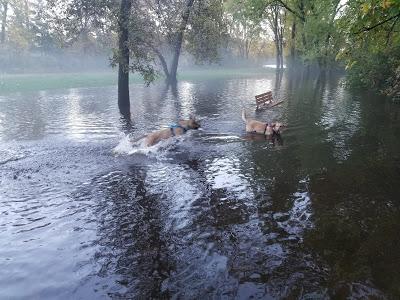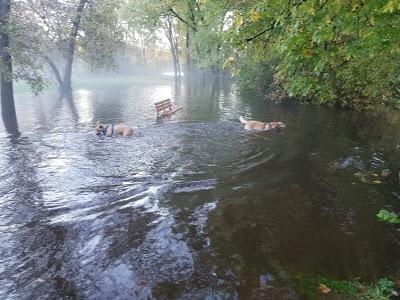 That's a park bench they're swimming past.
That didn't stop Charlie and Jake though! They took off splashing through the water and having a great time. I watched to make sure they stayed out of the main channel of the river since the flooded waters were flowing very fast but they seemed content to explore the flooded park.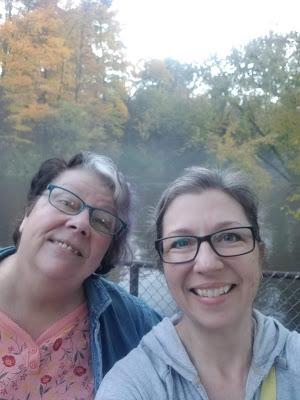 Mom and I chatted on the bridge, watching the water flowing swiftly beneath us, enjoying the fall colors enveloped in a warm mist and laughing at the dogs running back and forth through the puddles.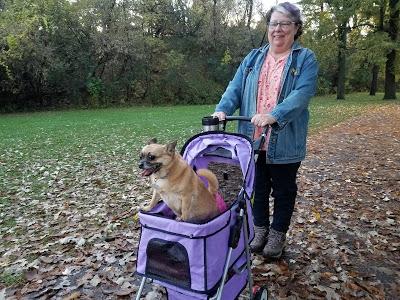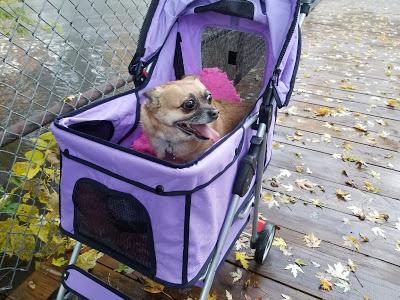 Peanut was so happy to be along, safely ensconced in her stroller where she didn't have to worry about being trampled by the bigger dogs. It was so uplifting to finally be outside enjoying the colors of the season and probably one last blast of warm humid air before the reality of the cooler season rolls in tomorrow.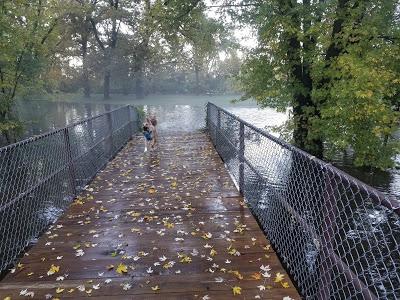 It's a little strange being in the presence of the power of nature. The way the river just goes where it wants, flowing fast and free. Hearing the roar of the water going through the dam just upstream. Watching the seasons change all around us, so fast and fleeting. I had been worried earlier this week that the leaves were going to fall before we had a chance to really enjoy them, but for today we got what we came for and it was bliss.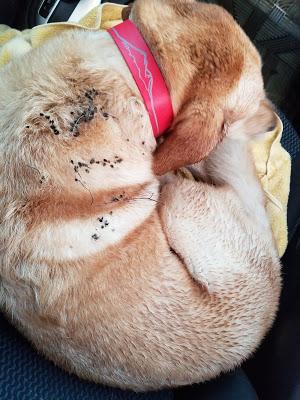 Charlie got into some burs! What a mess.