by Nina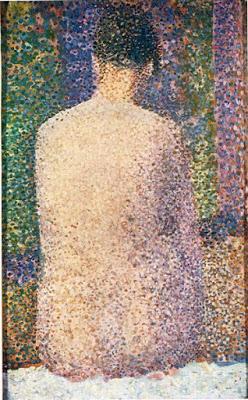 Model from The Back by Georges Seurat
You may have already seen the news that a study conducted by Boston Medical Center researches (with input from yoga teachers, doctors, and physical therapists) proved that gentle yoga was just as safe and effective for reducing back pain as physical therapy. The study lasted one year and the subjects included 320 participants, who were racially diverse and predominantly low-income, all of whom had chronic low back pain. During the program, specially trained yoga teachers guided the students in practicing simple, gentle poses, such as Cat-Cow pose, Triangle pose, and Child's pose. The findings were published in the Annals of Internal Medicine. If you want to read more, you can find the study at http://annals.org/aim/article/2633223/yoga-physical-therapy-education-chronic-low-back-pain. 
For us in the yoga community, the fact that gentle yoga can help reduce back pain is exactly big news, although it's always nice to have another study confirming what we already know through anecdotal experience. And the lead researcher, Rob Saper, said that if research shows that yoga can be as effective, "maybe yoga should be considered as a potential therapy that can be more widely disseminated and covered [by insurance]." 
But the main reason I'm sharing information about this study with you today is that what's unusual and exciting about this particular study is that the researchers are sharing both the guidebook for students and the teacher training manual— both of which are excellent—for the multi-week yoga program they used with the general public. I have reviewed them, and I have to say, I'm very impressed!
For people who are suffering back pain, you can find the guidebook for students here. It provides information about to set up your home practice, and includes several different sequences, complete with illustrations, based on simple, gentle poses. There is also detailed information about each of the individual poses. It's very clear and easy to follow!
For you teachers out there, you can find the manual for yoga teachers here. This manual contains background information on back pain. Then it provides detailed instructions for teaching the various segments of the program that the students work through. There are not only instructions for how to teach each class but also information about how to teach all the individual poses. Again, it's very impressive! Some of you might very well want to teach this curriculum.
This is so much more useful than just hearing about how "yoga" can help back pain or having a doctor say "do yoga." NPR's report on the study quoted Rob Saper saying, I'm not recommending that people just go to any yoga class." And it went on to say that Saper "pointed out that their research has helped nail down poses and relaxation techniques that are helpful and safe.
Subscribe to Yoga for Healthy Aging by Email ° Follow Yoga for Healthy Aging on Facebook ° Join this site with Google Friend Connect