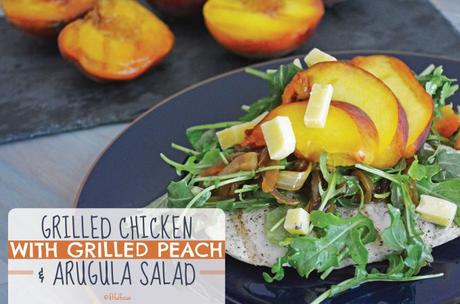 Even though it's been hot AF here the past few weeks, Will and I still love getting the grill going for dinner. I can put up with the sticky, sweaty weather for a bit if it means making something delicious.
We've done a lot of grill experimenting: Smoked Cajun Shrimp, brisket, ribs, salmon - but ever since we got the grill, I've been waiting for peach season. I've never had a grilled peach, but I was imagining them being juicy and delicious. The second I saw peaches in our grocery, I knew the time had finally come. Having no idea what I was going to make, I bought ten. When in Rome, right?
At first, I thought maybe I'd just grill some up for dessert. Honestly, that would have been delicious all on its own, but I wanted to make a meal out of them. I remembered seeing a recipe in a magazine a few months back that paired grilled peaches with arugula and gouda cheese (which is low-lactose to lactose-free) and thought I'd give that flavor combo a try alongside some grilled chicken. The result was this delicious Grilled Chicken with Grilled Peach and Arugula Salad.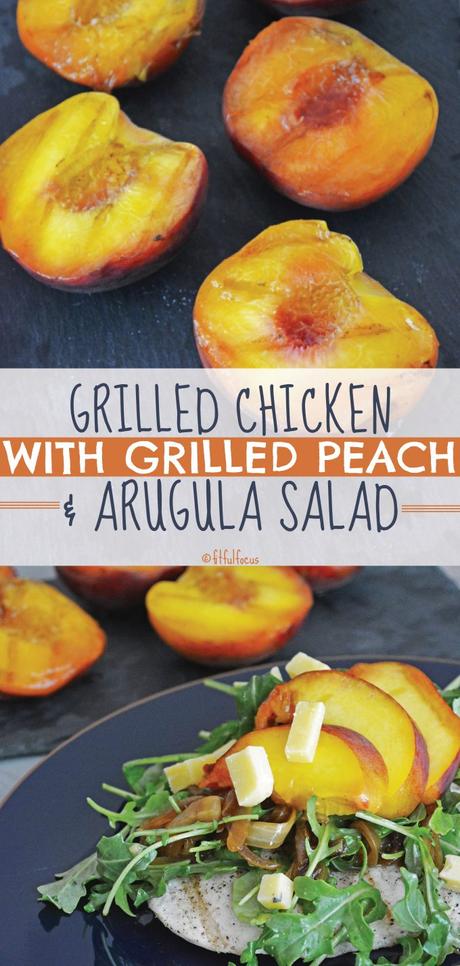 The ingredient list for this dish is fairly minimal, but the flavor it packs is anything but. The combo of peaches, arugula and gouda is something I never would have thought of, and it's incredible.
I added caramelized onions because they make just about everything better and kept the seasoning for the chicken as simple as could be: salt and pepper only. I find when it comes to grilling, the simpler the seasoning the better. The grill will add a ton of flavor on its own.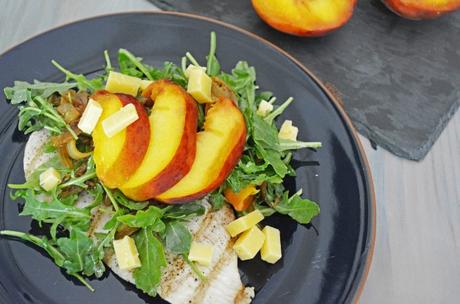 The peaches themselves don't need anything in terms of seasoning. A few minutes on the grill will make them soft and slightly caramely. Sweet, sweet syrupy juices will ooze off them. They're pure peachy perfection.
The caramelized onions take 20-30 minutes to make, but the rest of the dish can be whipped up in less than ten minutes. Once that grill is hot, both the peaches and the chicken only need a few minutes before they're ready for devouring. I made enough for both me and Will to enjoy all week long (about 10 servings). That meant grilling enough chicken and peaches for the week. I put the salad together each night so that it wouldn't get soggy.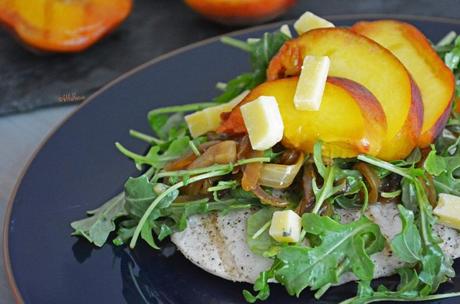 In terms of plating, all you have to do is toss your peaches with the arugula, onions and a homemade honey vinaigrette, place it on top of the chicken and top that off with a few little cubes of gouda cheese, and you'll be in summer flavor heaven.
Ready to get the grill going and enjoy the magic that is this Grilled Chicken with Grilled Peach and Arugula Salad?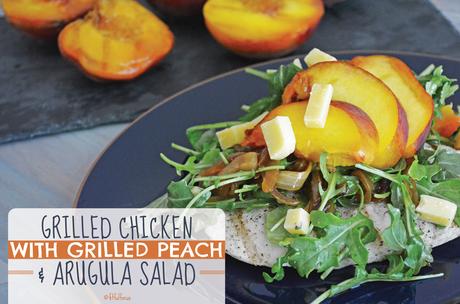 Ingredients
Instructions
Notes
Let's Chat:
Have you ever had grilled peaches?