Give your tastebuds a buzz of pumpkin spice bliss with these easy-to-make, protein-packed gluten and dairy free pumpkin spice latte doughnuts.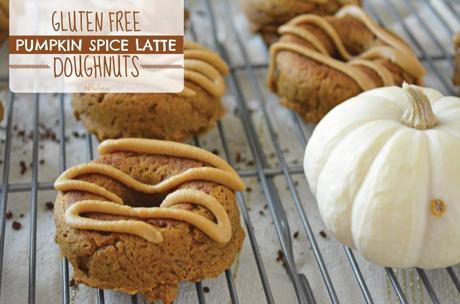 This post is sponsored by Now Foods.
Fall hasn't quite arrived here in Austin. Mother Nature teased us a little toward the end of September, and while the mornings and evenings are more enjoyable (about 75-80 degrees), I still haven't been able to break out the fall wardrobe. However, it is October now, which means it's officially time for all the pumpkin things, no matter what the temps.
So, my fellow-pumpkin lovers, get excited for a lot of pumpkin goodness to come to the blog. First up, these AH-MAH-ZING (if I do say so) gluten free pumpkin spice latte doughnuts!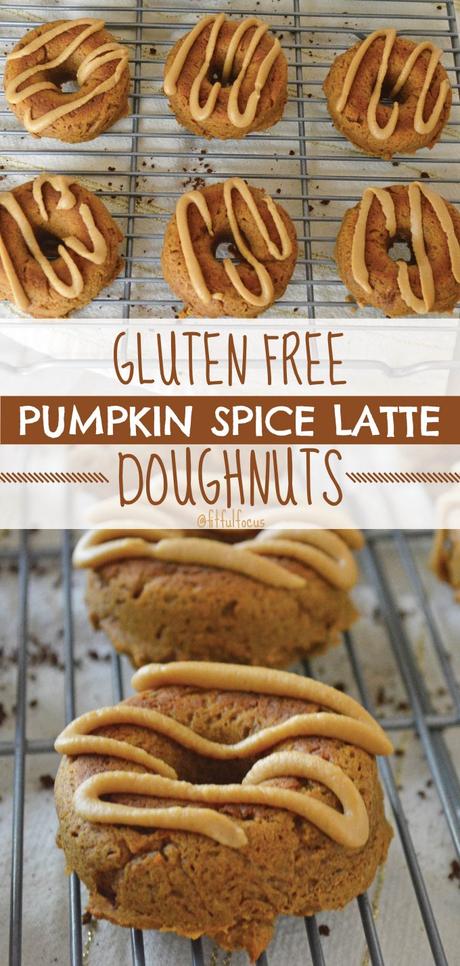 I've had the idea for this recipe brewing for a while now. I debated whether I wanted to make straight up pumpkin doughnuts, pumpkin doughnuts with cinnamon sugar coating or pumpkin doughnuts with a vanilla glaze. I was still brainstorming a recipe when I went to the grocery to get ingredients. My grocery has a Starbucks, and at the entrance to the store was a big sign touting the beloved pumpkin spice latte.
Hmmm.... perhaps I could make pumpkin spice latte doughnuts! I quickly adjusted my ingredient list, bought what I needed and headed home to experiment.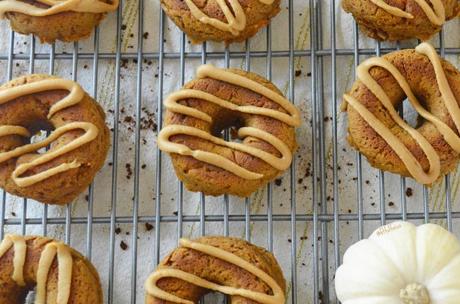 Not going to lie, I was pretty surprised when they came out perfectly on the first try. The pumpkin doughnuts would be pretty boss on their own, but the addition of the espresso glaze takes them to a dangerous level of deliciousness.
One of the magical elements of these doughnuts (besides the fact that they're gluten and dairy free) is that they're packed with protein. I used my favorite Now Foods Vanilla Toffee Pea Protein, though any vanilla protein powder should do. The protein powder takes the place of flour, helping to give these pumpkin spice doughnuts a cake-like consistency while adding flavor and nutrients.
The combination of the protein powder, almond butter, maple syrup and pumpkin puree gives these babies the ideal moist, dense texture.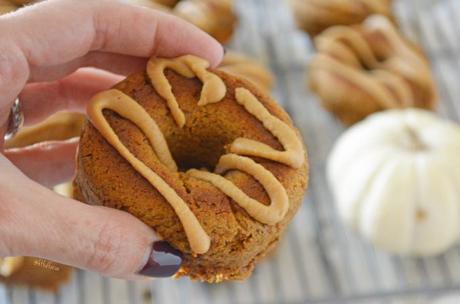 The frosting, however, is what really takes these over the edge - from scrumptious pumpkin spice doughnuts to BANGIN' pumpkin spice latte bliss - and it couldn't be easier to make. Simply stir a little instant espresso powder in with a bit of almond milk, add some sugarless confectioners sugar ( Now Foods Organic Confectioner's Erythritol is my jam) and drizzle it on to get that buzz of flavor.
I'm pretty pumped that I have a batch of these for breakfast this week. A cup of coffee (or perhaps a latte) and one of these gluten free pumpkin spice latte doughnuts? I can't imagine a better way to start the day.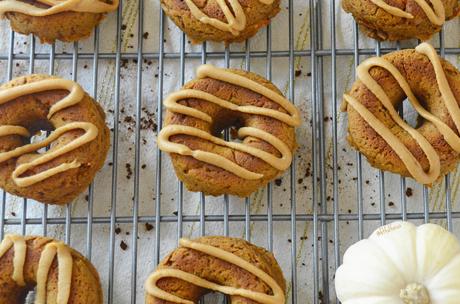 Ingredients
Instructions
Notes
Let's Chat:
Are you excited for pumpkin everything?