For more than a decade, the team at Goal Zero has been leading the pack for portable power stations built for use in the outdoors. Their products not only offer plenty of battery life and charging ports but are designed to survive and function even in harsh conditions. As a result, the company's products have set the benchmark for all of the similar products that I've tested and reviewed over the years.
But as the competition has heated up in this market segment, the gap back to the rest of the industry has begun to narrow. A great example of this is the Generark HomePower One power station and its SolarPower One charging panel, a portable power solution impressive in its design and performance.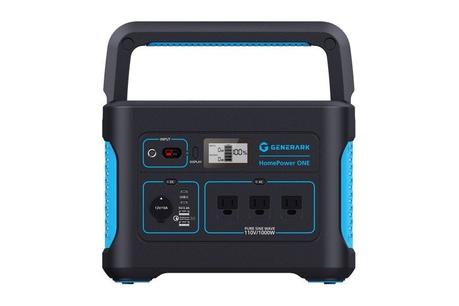 Generark HomePower One Power Station
When evaluating any portable power station for use in the field, there are three things that you always need to consider. The first of those is how much battery life it provides.
In the case of the HomePower One, that is just a shade over 1000 watt-hours (278,400 mah), which Generark says is enough to keep critical devices functioning for up to seven days. However, that's a bit ambiguous, so keep this in mind; that's enough power to recharge a smartphone more than 100 times, with juice left over to spare.
The next thing you'll want to evaluate when buying a portable power station is how many charging ports it provides. The HomePower One excels in this category two, coming equipped with two USB-A ports (5V/2.4A and QC 3.0), two USB-C (PD 18W), and a 12-volt car port.
It also features three 110V AC outlets, which is one or two more than most of the competition at this price point. This adds a fantastic level of convenience and adaptability, allowing you to plug in television sets, small refrigerators, drones, camera equipment, or just about anything else you can think of.
The final thing you'll want to keep in mind when shopping for a power station like this one is how much it weighs. The HomePower One tips the scales at 23.4 pounds (10.6 kg), which is pretty much right in line with what you'd expect from a 1000-watt model.
That makes it a bit too heavy to take on a backpacking trip, for instance, but perfect for car camping or for use around the base camp. Smaller models are lighter, of course, but offer less charging capacity too.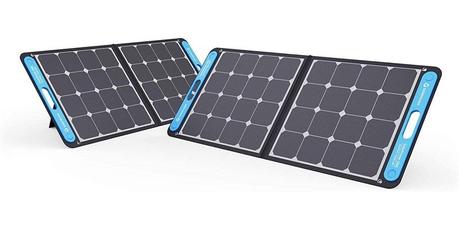 Generark SolarPower One Portable Solar Panel
The companion to any high-capacity portable power station is a good solar panel, and the HomePower is no exception. To keep its generator up and running in the field, Generark has built the SolarPower One, a lightweight and efficient panel that offers a few extra options that help to set it apart from the field.
Available in both 100- and 200-watt models (I tested the 100w version), the SolarPower One promises a 50% higher level of efficiency thanks to its monocrystalline solar cells. It's difficult to know if there is any merit to that claim, but I will say that my test unit did indeed perform very well, particularly in bright, direct sunlight.
As with all solar panels of this type, the performance was also impacted by clouds, shade, and direct sunlight exposure. Under optimal conditions, though, the HomePower one can be recharged in about eight or nine hours.
Having tested several portable solar panels, a couple of things stood out with this model. First was the built-in kickstand, which made it very easy to set-up the SolarPower One and gets the best angle on the sun imaginable. The other was the onboard ports that allow you to recharge directly from the panel itself.
Not only is there a standard 8mm solar output for charging a power station, but there is also both a USB-A and USB-C port, giving users the option to plug-in directly. That's a nice touch that explorers and adventurers can appreciate.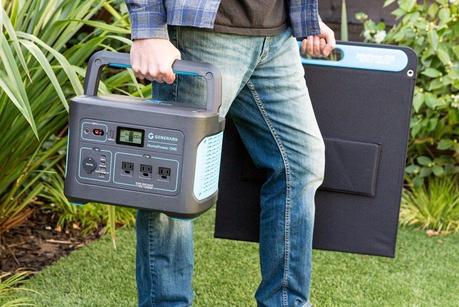 A Portable Power System
Designed from the ground up to work together, the HomePower One and SolarPower One are as efficient and easy to use as any portable power system that I've tested. The power station comes with a built-in 8mm charging port, which the solar panel can tap into directly, making for a no-hassle set-up. The HomePower One does come with a built-in Anderson port too, which allows it to accommodate solar panels from other manufacturers.
Having a reliable and powerful option for keeping your devices functioning while in the field is a must these days, but setting that charging station up needs to be as hassle-free as possible. Thanks to their ability to efficiently work together, you can get the HomePower One and SolarPower One working together in under a minute. With eight ports on the power station-plus another two on the solar panel-it is possible to charge as many as ten devices simultaneously.
For those who want to keep a close eye on how that power is divvied out, Generark has included a handy LCD display. The easy-to-read and understand screen puts the current battery level, as well as power in and out, at a glance.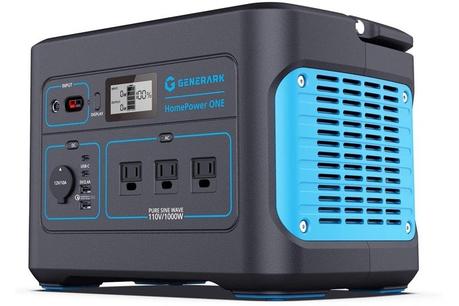 Portable Power Evolved
As I've already mentioned, I've reviewed several power stations and solar panels over the years, and usually, I have one or two nits to pick. Usually, those criticisms have included a lack of charging ports in general or USB-C ports in particular. I've also knocked some models for wanting to be rugged enough for use in the outdoors but offering subpar build quality instead.
Happily, this isn't the case with the HomePower One and SolarPowerOne. From the impressive level of construction to the high-capacity battery to the plethora of power ports, I'm at a loss to find something to complain about.
This portable power station is top-notch from top to bottom and should offer plenty of capacity, performance, and durability for use on your adventures. The same holds true for the solar panel, which is lightweight, efficient, and quick. It also gets extra marks for including onboard charging ports too.
The bottom line is, if you're looking for a portable power solution that can keep your campsite, worksite, or backyard up and running, the Generark HomePower One and SolarPower One are excellent options. They also make for great emergency power at home for those "just in case" situations. Priced at $1299 and $299 (100w model) respectively, you find them competitively priced too.
Buy the HomePower One and the SolarPower One at Amazon.