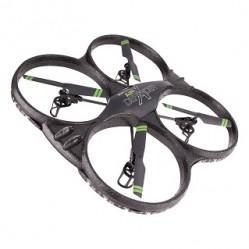 If you're like me, you've probably been intrigued with the potential of drones over the past few years, but put off by the steep price of entry to buying one. While the prices of drones have continued to come down, and their sophistication and functionality have gone up, it can still be a bit intimidating to think about purchasing one and learning to fly it. Fortunately, there are some new options that make it easier to buy in, and discover what it is like to actually use one of these things in the field. For instance, the Vivitar Air Defender X Camera Drone is an affordable and fun UAV that has a lot of the same options as other drones, but at a fraction of the price.
Okay, before I go too far into my thoughts on the Air Defender, lets be clear what this drone is and is not. For example, it is not a competitor to the DJI Phantom line of drones, which are larger, more powerful and definitely more pricey. Instead, this is a lightweight, easy to fly, and very affordable entry-level drone that you'll probably have a lot of fun with.
Checking out the specs on the Air Defender you'll discover that it has a lot of options for the price. For instance, it comes equipped with 16.1 MP camera that is capable of streaming video and images to your smartphone when it connects to the drone via WiFi. It also has a range of about 200 meters, and a flight time of about 20 minutes when using the two supplied batteries. It is also wrapped in 64 individual LED lights, which makes it easy to spot even in dark conditions. This also gives it a fun, unique look that helps in navigation too.
Inside the box, you'll find the Air Defender itself, a full-featured remote control, complete with smartphone holder, two rechargeable batteries for the drone, a set of regular AA batteries for the remote, and a USB recharging cable.
It takes about 2 hours to charge one of the batteries using the proprietary USB cable, so when you get the drone home, you'll have to be patient for a bit before you start using it. I'd recommend charging both batteries before making your first flight, because you'll burn through the rechargeable battery pack quite quickly, and you'll want to be able to put the second one in and fly some more before you run out of juice.
Piloting the Air Defender takes a bit of time to master, in part because it is surprisingly quick. There is a switch on the remote that allows you to limit the speed on the aircraft to 30, 60, or 100% and I definitely recommend keeping it on the slower speed when you first start. I expected the 30% setting to be slow and easy to master when starting out, but it was surprisingly quick even on that setting. At 100% power you'll want to have plenty of room, because it is fast, fast, fast.
After some practice you'll start to get the hang of flying this drone, as the controls work as you would expect for the most part. The only issue I had was getting the drone to fly at a level hight, as the joystick on the remote that controls vertical doesn't have a "return to zero" setting. This would have come in very handy, but instead I often find myself having to make minute adjustments to the stick just to get the drone to fly at a height that I would like.
If you don't want to use the included remote to pilot the drone, you can also connect it to your Android or iOS device via an app as well. This gives you the ability to fly the UAV as well, and activate its camera. In fact, you can actually get a drone's eye view of the flight right on your mobile device's screen. This is of course a lot of fun, and gives you the option to snap photos or capture video footage as well. Personally, I preferred using the actual remote control, but would have still like to have been able to use my iPhone as a screen and to control the camera. I haven't figured out if it is possible to do this however, as it appears that only one of the remotes can be used at a time.
As you've probably noticed, there is one word that keeps appearing in this review over and over. That would be the word "fun." That's because it is the best way to describe what it is like to fly the Air Defender, and judging from the crowds that gather when I break it out, a lot of people seem to find it enjoyable to watch as well. While it may be true that this isn't a professional grade drone used for filmmaking and photography shoots, it is still just a blast to fly it around, capturing images of your own.
As fun as it is to fly, the absolute best part of the Air Defender just might be the price. The drone costs just $99, which is well below the entry fee for most other drones that have a decent set of features. Basically, for $100 you can get a UAV that gives you a taste of what the more expensive drones can do, allowing you to consider investing in something more sophisticated, or simply enjoying the aircraft for what it is. That alone makes this worth consideration.
You can probably tell that I have really enjoyed flying the Vivitar Air Defender X Camera Drone. Yes, it has some limitations, but it also has a surprising amount of technology packed in as well. As long as you go in knowing that, I'll bet you'll have fun with this drone too. Honestly, it's hard not to like it.