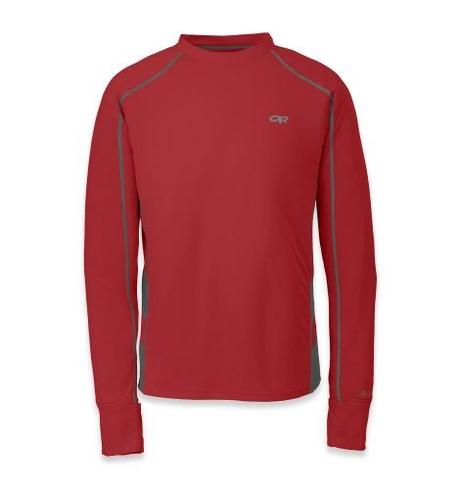 The calendar may say that it's officially spring but no one has bothered to tell the weather. The temperatures are still cool across much of the country and there is still plenty of snow falling too. But as any outdoor enthusiast will tell you, there is no such thing as bad weather, just bad gear. So as you head out for your spring adventures you'll want to dress properly for the wildly fluctuating spring weather.
The new Men's Torque Tee from Outdoor Research is the perfect technical shirt for a variety of active adventures. Built from highly breathable and moisture wicking Polartec fabrics, it is a soft and comfortable garment that performs well on its own or part of a layering system. In fact, OR has done the seemingly impossible by creating a shirt that is lightweight enough that it can be used in warmer weather and yet is still highly effective in cooler temperatures as well.
I've been using the Torque quite regularly over the past couple of months and it has quickly become my go to shirt for a number of vigorous activities. I've worn this shirt trail running, hiking and mountain biking and each time it has impressed me with how comfortable it is and how well it performs. A lot of garments claim to be breathable and wicking, but the Torque delivers on the at promise in spades. On more than one occasion I've worked up a good sweat on a workout but still managed to remain comfortable and dry thanks to this shirt.
Have you ever had a piece of outdoor clothing that was so good that it easily became your favorite the first time you wore it? One that performs so well that you're actually disappointed to find it is in the laundry pile waiting to be cleaned and not available for your latest adventure? That's how I feel about the Torque Tee. It has become the first shirt I look for when I go to the closet, which should tell you everything you need to know about just how good it truly is.
My Torque Tee has been used numerous times since I added it to my gear closet and it still looks brand new. The fact that it hasn't shown a single sign of wear after running up and down more hills than I can count, and pedaling and walking many trails, says a lot about the quality of this garment. It'll make a great travel shirt as well, as it is easy to keep clean, resists odor and looks great too.
Outdoor Research has priced the Torque Tee at $69 which at first glance seems like a high price to pay for a shirt. But if the old adage of "it's worth every penny" has ever been more applicable, I don't know where that would be the case. I can't say it any more plainly. This is an amazing piece of gear and I really need to add one or two more of them to my closet.