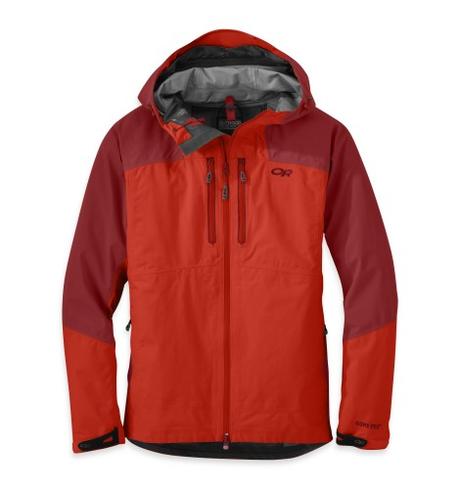 Outdoor Research is one of my absolute favorite brands. For me, their gear never fails to impress and always delivers top notch performance. I have OR clothing and other gear that I've owned for years in my own gear closet, and those items remain some of my "go to" pieces of equipment when I'm heading out on an adventure. So, when they offered to let me test out the new Furio jacket, I was excited to say the least. And, true to form for Outdoor Research,  it performed exceptionally well. So much so that I can't wait to use it in more extreme environments in the future.
In terms of features, the Furio pretty much ticks all of the boxes that you would expect out of a shell jacket. Thanks to its Gore-Tex fabrics it is waterproof, windproof, breathable, and durable. It comes with an adjustable hood that not only fits over a helmet, but can be stowed away when you don't want to use it. The jacket has fully taped seams to help keep moisture at bay, and its zippers, velcro cuffs, drawcords are all extremely high quality.
The Furio is all filled with numerous design choices that only come from years of experience building clothing for use in the outdoors. For instance, the zippered hand pockets are smartly placed above where the hipbelt of your backpack will sit, allowing you access to their contents without having to remove your bag. There are also plenty of venting options as well, as the front of the jacket features a double separating zipper, and their are additional zippers that run along the entire hem, up to the arms. This allows the wearer to stay warm and dry when the weather turns cold, but have the ability to vent out heat and moisture when things warm up.
Other storage options include two zippered chest pockets, both of which are great for keeping snacks, a smartphone, or other small items close at hand. One of those compartments comes equipped with an access port for running headphones into the interior of the jacket, while a dedicated media pocket located on the inside of the Furio shares that feature as well.
In terms of fit, the jacket is built for use in the outdoors, and as such it designed to hug the body, but not impede motion in any way. Its adjustable cuffs and hem allow it to be worn comfortably on its own, or as part of a layering system. Adding a base layer and mid-layer increases warmth and versatility in extreme environments, but the jacket performs so well on its own that it can be used on just about any outing.
As you would expect, the Gore-Tex fabrics used in the Furio perform very well. The jacket shrugs off moisture with ease, and protects the wearer from biting winds. While it is breathable to a degree however, I did find myself getting overheated from time to time. But that is a common issue with any garment that is designed to be both waterproof and windproof, as breathability in extreme conditions becomes somewhat subjective. That is when the jacket's excellent venting properties – already mentioned above – come in handy. When you start to warm up, just open some of the zippers and you'll begin to cool off quickly.
No matter what your favorite outdoor activities are, you'll more than likely love this jacket. Whether you like to hike in cooler temperatures, backpack in all kinds of conditions, or climb at altitude, the Furio will provide the protection and performance you need. I was not only impressed with how well it handled the elements, but how easy it is to move in this jacket. This is one of the finest shells that I have ever used, and since it is incredibly durable, I know it will be accompanying me on many adventures yet to come.
I started this article by saying how much I already liked products from Outdoor Research. But with the Furio, they have outdone themselves. This jacket has everything you could ask for in a storm shell, and so much more. At $375 it isn't a jacket for just anyone however. But if you are the kind of person who demand high performance out of all of your gear, and frequently find yourself out in all kinds of weather conditions, this is a jacket you'll definitely want in your wardrobe. For those kinds of people, the Furio is worth every penny.