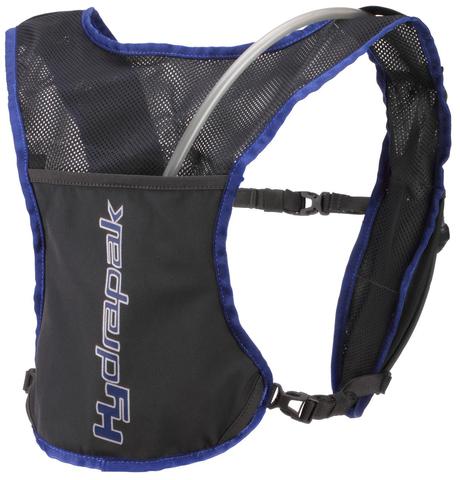 Awhile back, I wrote a review of the new Marathoner hydration vest from Camelbak, which should be hitting stores about now. I found it to be a good option for long distance runners who want to stay hydrated while on the go. Fast forward a few months, and I've now had the opportunity to test out a similar vest from Hydrapak, and while the two products are competitors, I thin they'll appeal to a different audience.
Over the past few weeks, I've been putting the Hydrapak Elite Vest to the test, both on road and trail runs, and I've come to really appreciate what this lightweight, minimalist pack brings to the table. The vest weighs in at a mere 9.9 ounces, and is pretty much stripped down to the bare essentials. It sports a 1 liter water bladder, half that of the Camelbak, and two small zip pockets, which stretch to hold more than you would think at first glance. The Elite Vest also has four holster style pockets for keeping your gels, nutritional bars, and other food items close at hand.
Made from very soft, moisture wicking fabrics, I found the Elite to be very comfortable to wear, particularly over longer distances. In fact, for my tastes, Hydrapak's offering was more comfortable to me than Camelbak's, which is a bit larger, although by no means bulky. Adjusting the fit on the Elite is a quick, and simple affair, and once properly adjusted, it locked into place nicely, something I appreciate greatly when on an extended run.
When Hydrapak says that this is a minimalist pack, they truly mean it. If you are a runner that needs to carry more than a liter of water, or carries a jacket, headlamp, or other items with you, you'll probably appreciate the expanded options available on the Marathoner more. But if you prefer to move fast and light, and don't require much in the way of extra gear, the Elite is a great option, so long as you are aware of the limitations ahead of time. Personally, I felt that the smaller vest was a better option in the warmer weather of Texas, where the larger pack can lead to overheating.
Despite its minimalist design, the Elite Vest is a very high quality product. After numerous runs, mine looks like it is is still brand new, and feels like it will be a great training companion for a long time to come. With a price tag of just $54.99, it also is an inexpensive option for runners on a budget, although there is nothing "budget" about this product.
The Hydrapak Elite Vest gets a big thumbs up here.