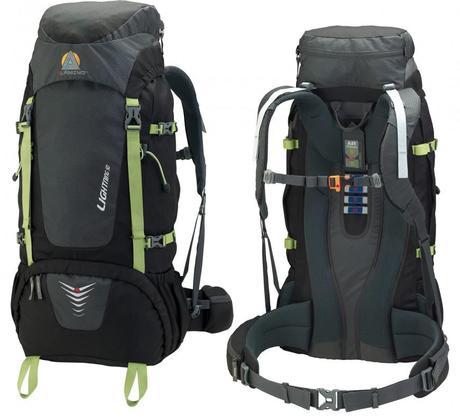 High Peak is a company that has a reputation for making solid, affordable gear that is both durable and dependable. Their products don't tend to be flashy or over blown, but they are very functional and are often a great example of how simple design can be highly effective.
I was reminded of this recently while testing their new Alpinizmo Lightning 50 pack, which at first glance didn't seem to offer much in comparison to some products offered by competitors. There aren't an over abundance of pockets and storage compartments, and other than a few compression straps and an ice axe holder there isn't much to set this pack apart from the crowd. But the Lightning 50's true strength is in its simplicity and this is a bag that truly shines when you actually start putting it to use.
My early impressions of the pack changed dramatically as soon as I put it on. The Lightning is surprisingly comfortable and I love how easy it is to adjust the fit even while wearing it. The adjustable frame makes this a "one-size-fits-all" option and finding just the right settings were a snap. Even the chest strap is adjustable both vertically and horizontally, and in a matter of minutes I had the pack dialed in exactly where I wanted it.
Sticking to the no-frills approach, the Lightning 50 has just two internal compartments that are separated by a drawstring shelf. The bottom chamber is perfect for a sleeping bag of course and the top can be used for the rest of your gear. The drawstring makes it possible to open the interior into one large compartment, but I personally preferred some level of organization. The pack's lid has another pocket that is great for keeping the most important small items, such as a headlamp or multitool close at hand. Another small pocket on the waist belt is perfect for a small point an shoot camera and an energy bar.
While the Lightning 50 may appear to be a no frills pack, High Peak hasn't exactly skimped on the quality. Everything from the highly durable fabrics and thick buckles on the belts and straps are nothing short of impressive. The Vario air channel system provides good ventilation for the back while out on the trail and the built in hydration sleeve can comfortably hold hold up to a 3-liter water bladder.
All of that comes in an attractive package that weighs just 3.4 pounds and carries an MSRP of $149. That's actually a great price for a rugged pack that will keep most backpackers and hikers happy for a very long time. The Alpinizmo Lighting 50 is an excellent option for the outdoor enthusiast who just needs a simple, comfortable pack to carry all of their gear on the adventures.