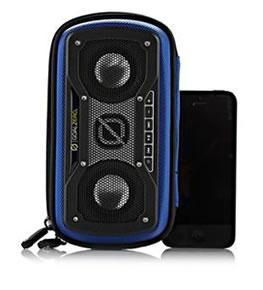 Goal Zero is a company that is well known for offering affordable and efficient solar chargers for use on everything from a day hike to a full blown expeditions to the Himalaya. GZ is dedicated to creating products that are tough, useful and good for the environment, and over the past few years their gear has accompanied many explorers on their adventures. But it turns out they also make a line of other products that are fun and a bit unexpected. Take for example the new Rock Out 2, a ruggedized portable speaker that is designed for listening to your favorite tunes and keeping your smartphone charged while in the backcountry.
The Rock Out 2 is a refined update to the original Rock Out portable speaker system that Goal Zero has offered for several years now. The multifunctional device serves as a protective case for your smartphone or mp3 player while also allowing you to listen to music, podcasts or other audio sources while on the go. In a sense, it is an entertainment system for backpackers, campers and hikers who just can't leave home with out their personal soundtracks.
Goal Zero brought some nice upgrades to the sound quality of the new Rock Out 2. The bass is louder, deeper and more full than the previous model, delivering a surprisingly nice thump for such a small speaker. I found sound quality to be quite good across the entire audio spectrum with the mid- and high-ranges coming through distinctly at all times. The speakers also don't distort as the volume increases, belting out tunes clearly at all times.
A portable speaker is only as good as its battery and GZ was sure to give the Rock Out 2 solid performance in this area. It includes a lithium-ion power source that is rated for up to 20 hours of playback. In my testing, I'd ay that was fairly accurate. Higher volumes seemed to drain the battery a bit more quickly but it was always a considerable amount of time between charges. A built-in energy saver system automatically shuts the speaker off after five minutes of inactivity, which helps to preserve power as well.
As you might expect, the device is also designed to easily pair with a Goal Zero Nomad 7 solar panel to stay charged in the field. The company says it takes about three hours to recharge the device using their system, although that time will vary depending on the amount of available sunlight. You can also charge the Rock Out by plugging it into a USB power source. Recharge times will vary there as well depending on the quality of the USB port. My MacBook Air was able to refill the battery in roughly two hours.
The outer case of the speaker system is well built and feels very solid. It has been designed to protect any device that is slipped inside its padded interior and it does an excellent job at doing just that. Not only is it water resistant, but it would take a seriously vicious impact to the Rock Out for any damage to actually pass through to the interior of the case, which has been expanded in order to accommodate larger smartphones. If you're someone who likes to take your iPhone or Android device with you into the backcountry, you'll find that the RO2 provides plenty of protection, although it is bulkier than a standard case thanks to the built-in speaker system.
Goal Zero listened to customer demands and added exterior controls to the Rock Out 2 allowing the user to  adjust volume, pause, play and skip tracks. This is a nice touch over the older model which required you to open the case to access the audio device to make those kinds of adjustments. Doing so can expose the smartphone to the elements, which is counterproductive considering the amount of protection the case provides otherwise.
While the Rock Out 2 is a fun, well built product there is one thing that it doesn't do that i would have liked to have seen included. It doesn't allow the user to tap into it's battery and use it to recharge your smartphone directly. I know the idea is that everything will be charged through a solar panel, but it would be nice to able to take the Rock Out and your smartphone with you and have the battery life extended by charging off the speaker itself. It's a minor quibble but it would have been nice to have the option.
The new Rock Out 2 carries a price tag of $59.99, which is a reasonable price for speaker/case of this kind. GZ kept the original Rock Out in their line-up for $29.99 as well, giving customers a choice. Personally, I think the performance gains from the new model are worth the upgrade price, but if you're looking for audio output while on a budget, you'll find the older model to be quite a bargain too.