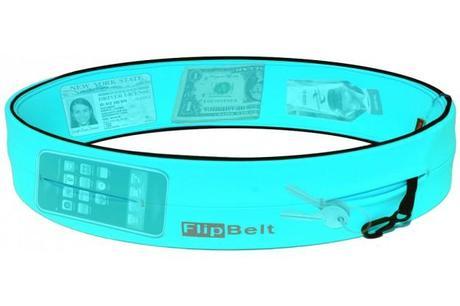 As you can probably imagine, I see a great deal of unique and interesting pieces of gear come across my desk, some of it good, some of it disappointing. I'm fortunate that a lot of those items are often from high profile companies, who create excellent products for use in our outdoor pursuits. But sometimes you seem interesting items from smaller companies who are making innovative and interesting pieces of gear that fill a niche, but just haven't been seen by a larger audience just yet. I have two such products today, that I think could come in handy for the outdoor athlete, particularly as we move on into the warmer months of the year.
The FlipBelt
We'll start with a product called the FlipBelt, which is one of those items that is so simple in design, you'll wonder why you didn't come up with it first. Boiled down to it's most basic element, the FlipBelt is an elastic tube that fits around the waist of runners, cyclists, and other athletes, providing them with storage for all of the small items they like to carry with them on a workout, which comes in pretty handy considering most of my workout gear has gone fairly minimal in design, and doesn't leave a lot of room for carry extra items.
Made from moisture wicking, breathing materials, the FlipBelt is comfortable to wear, stays securely in place while you run, and actually looks like it belongs on a runner's body. It is available in eight different colors, so you can choose one that best fits your wardrobe, or makes you more visible to traffic. I went with basic black, which fits in nicely with my running gear.
The FlipBelt is actually tubular in design, with a snug fit that is designed to keep all of your small items, such as keys, an ID, cash, a smartphone, etc.,  securely in place. Four strategically placed slits in the fabric grant access to the interior of the tube, so you can place your items inside. One of the pockets even has a key clip, to add an extra sense of security.
While I didn't really see the need to wear the FlipBelt while riding my bikes, after all my cycling jerseys have ample pockets, I did find it was a nice piece of gear to have while running. After wearing the belt for a short time, it actually felt very natural, and I soon forgot I even had it on. Meanwhile, the three-inch cloth tube was easily holding my 5th generation iPod Touch, a set of keys, my drivers license, and a few dollars in cash.
The FlipBelt actually performed exactly as advertised. Not only did it safely carry my small items while running, it didn't add much in the way of bulk, nor did it generate much excess heat. It has been quite warm already where I live, so I've already been running without a shirt. Thankfully, the FlipBelt's ability to breathe and wick moisture, proved to be up to the task as well.
With a price tag of $28.99, the FlipBelt isn't a very expensive accessory for yourself, or the runner in your life. It is comfortable, useful, and versatile, three things that come in handy while out on a long run. This is a handy product that you'll be glad you have in your gear closet for when you really need it.
Kenu Highline iPhone Safety Leash
For most of us, a smartphone is an indispensable piece of gear that we rarely leave home without these days. But sometimes it can be dangerous to try to use our phones while also taking part in our favorite outdoor activities, such as mountain biking, skiing, or trail running. The combination of moving over uneven ground, while operating our sleek, impossibly thin, devices – often with sweaty hands – can be a recipe for disaster. More than a few of us have probably dropped our iPhones under just those circumstances, probably while trying to take a photo of something amazing.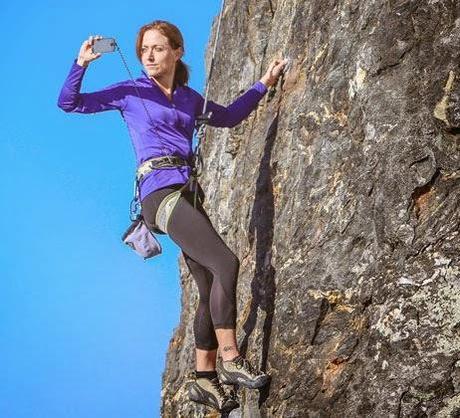 But iPhone accessory company Kenu has come up with a simple, but elegant solution, for protecting our expensive smartphones while still being active in the outdoors. They've created a the Highline Safety Leash to prevent untimely drops that could render our phones severely damaged, or even non-functional. Built specifically with Apple's smartphone in mind, the Highline features a specially designed clip that fits into the Lightning connector port on the iPhone 5 and 5S, or the 30-pin connector port on older iPhones. Once locked into place, the other end of the Highline can than be quickly and easily attached to the zipper on your jacket, a clasp on your backpack, or just about any other secure spot. That way, when you take your phone out to use it, you always have the safety leash to make sure it doesn't fall to its death.
In between the two ends is a tough bungee cord reinforced with kevlar wire and stainless steel clips. This helps to ensure that once the Safety Leash is locked into place, your device isn't going anywhere, thus allowing us to use our devices without worry that they will be dropped, lost, or stolen.
The iPhone Safety Leash is another product that works exactly as advertised. It is easy to set-up, very convenient, and provides a nice piece of mind that your gadget is well protected while traveling. The 30-pin version that I tested is available for just $19.95, while the version that is available for newer iPhones with the lightning connector is $34.95, and includes a thin protective case as well. Both prices are a fair amount for a system that will take the worry out of using your smartphone while on the go, whether that is hiking in the Appalachian Mountains, trail running in Colorado, or simply driving to the local market. You'll feel more secure knowing you have a safety leash on your favorite electronic device.